24 Aug 2009
Creating the Macbeth Witches
by Melanie Mortensen and Carmen Killam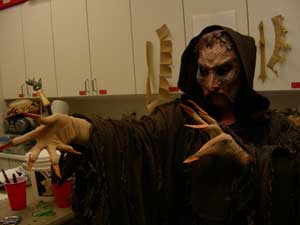 Instead of doing extensive age makeup on 30 chorus women to transform them into witches for our upcoming Opera performance of Verdi's Macbeth, the director, costume designer Susan Allred and costume shop manager Rose Brown decided it would be better to give them masks to wear in the respective scenes. The masks were designed to look a little larger than life and allow for singing (hence the open mouth area) and to look like they had leathery old skin with twigs and all sorts of things in their hair. In order to get the effect the costume designer was after, Carmen Killam (Milliner/Crafts Technician) used a plaster casting of Melonie Mortensen's (Assistant Rentals Supervisor and Swing Crafts Technician) face (also called a Death Mask or a Life Cast) as a base.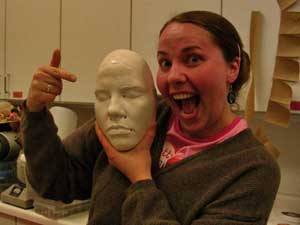 She then sculpted a design with clay of how she wanted the masks to eventually look. After getting the o.k. from the designer, she made a cast of the clay mask out of plaster. Carmen then used Veraform (a heat sensitive thermoplastic material) to form the masks by pressing it into the mould after heating it up with steam.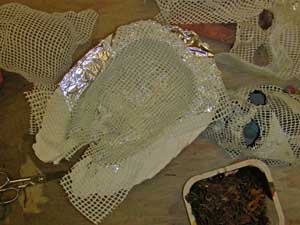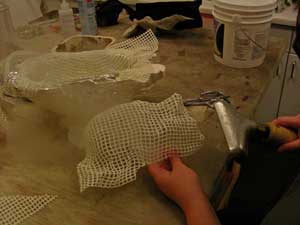 Once the shape dried and cooled it was popped out, and covered with tulle and Sculpt-or-Coat to give it a more paintable surface.  It also succeeded in giving the leathery look she wanted.  More Sculpt-or-Coat was added along with leaves, other bits of Veraform to create moles and warts and other facial flaws and bits of fibers to add texture.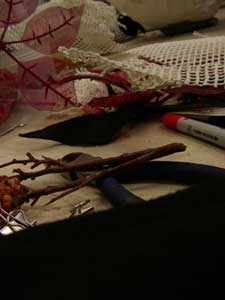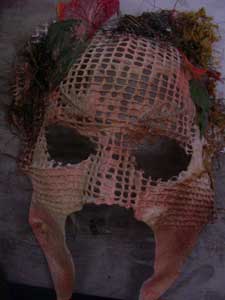 Finally, a flesh toned base coat of paint was applied and then using an airbrush, shadows were added along with dark circles under the eyes.  Carmen and Melonie (her trusty assistant for this particular project) also lined the inside of the masks with black felt to make them more comfortable for the performers.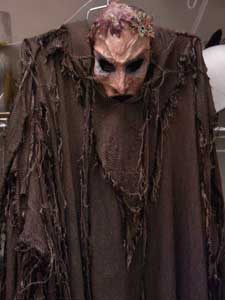 The witches also needed scary fingernails and instead of having to apply fake fingernails every performance, it was decided to glue them onto flesh colored gloves.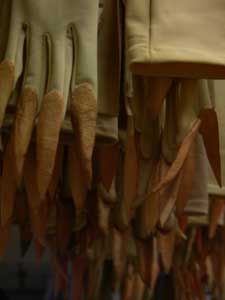 Melonie used Formfast (a felt-like thermoplastic product that is heat sensitive but still malliable upon re-heating after it's been initially hardened) and cut out 60 sets of  fingernails, shaped them, painted a layer of Sculpt-or-Coat on them so they were paintable and looked more like fingernails and less like felt.  She then painted them and glued them onto the gloves.  She had to keep her hand in the glove while it was drying so the glue didn't stick to the other side of the glove.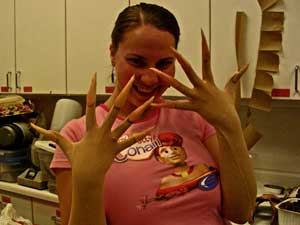 Now our witches are complete!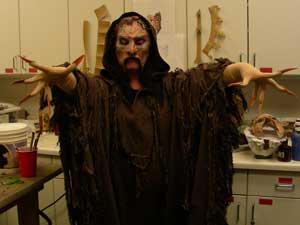 Raggy ponchos brought to you by Ken Burrell (Cutter/Draper) and Sue Ure (Stitcher), dyed and distressed by Vicki Raincrow (Wardrobe Supervisor/Dyer/Painter).
Tags