Utah Opera adopts West High School
As part of its parent organization's commitment to supporting youth engagement in the arts, Utah Opera  "adopted" West High School Fine Arts 2019 through 2021.
The "adoption" includes mentoring opportunities by Utah Opera in-house artisans and crafts people, and rare access for high school arts students in the processes behind creating professional opera productions, from observing rehearsals to learning marketing savvy.
NOTE:  The COVID19 pandemic interrupted our year of adoption in spring of 2020, and our adoption was put on hold.  Utah Opera and West High Performing Arts are looking forward to a FULL year of adoption in 2021-22, and meanwhile found a few ways to support student experience during 2020-21.  Check them out at the bottom of this page.
---
GOALS
"Our goal is to raise a broad awareness that Utah Opera is incredibly active in providing music education programs for students in our statewide community," said Utah Symphony | Utah Opera Education and Community Outreach Director Paula Fowler. "Utah Opera Resident Artists provide live, professional opera experiences to students in 150-175 Utah schools every year, and we are dedicated to serving all of the school districts across the state on a regular rotation. Our collaboration with West High School this season involves our entire opera staff and helps us provide a deep and multi-layered experience for the performing arts students at one school. We are thrilled to be able to provide this for West High."
This unique project will draw attention to the Utah Opera's devotion to music education. Supported in part by legislative funding, Utah Opera Resident Artists performed 163 programs for elementary and high school students across Utah last year; nearly 63,000 Utah students in 2018-19 were able to hear the Utah Opera Resident Artists live in their schools. The organization also provides access for students to the final dress rehearsal for each main-stage opera, and features programs for special population audiences including a night at the opera for visually impaired audiences, and access for families affected by autism.
---
OPPORTUNITIES
"The West High theatre students have had so many opportunities already this year! They have toured the rehearsal and storage space, workshopped with the Technical Director, Head Costumer, and Publicity," said West High drama teacher Stacey Hutchings, who is overseeing the program implementation at the school. "Some of the students had never experienced opera or live theatre, and they were able to attend a performance of La traviata…The experiences and opportunities that these students are participating in are once in a lifetime!"
During the program, West High students had the opportunity to consult with Senior Technical Director Jared Porter, Principal Coach and Pianist Carol Anderson, and Costume Director Verona Green for their input on the school production of "Wizard of Oz" in November. The high school music club choral arm was visited by Utah Opera Chorusmaster Michaella Calzaretta for several of their "Wizard of Oz" chorus rehearsals, where she taught different warmup exercises and gave suggestions to enhance their musical education, diction, and performance expressiveness.
"Paula and Michaella have been a joy to partner with in this "musical" endeavor! Michaella has brought to the chorus a fresh pedagogical perspective that has inspired us to sing with a new level of excitement and articulation," said West High choral director Melinda Benson. "I have especially appreciated Paula's willingness and Michaella's hands on involvement to reach out to us to have Utah Opera artists join our A'cappella members in song for our own special concert on March 17th at West High. Thank you from the bottom of our hearts for your beautiful partnership!". (The March 17 performance was postponed due to the coronavirus pandemic.) 
In January, during Utah Opera's production of Silent Night:
Drama students had the opportunity to attend the Wednesday night performance.
West High's stage crew had the opportunity to participate in lightwalking, received a partial tour of backstage, and spent time with some of their professional counterparts backstage.
Baritone Craig Irvin from the cast made presentations in two West High choral classes.
Several students had the chance to sit backstage on headset during performances and shadow the stage manager.
Technical high school students had the opportunity throughout the season to sit backstage to listen to all the stage manager calls during the opera performances and watch the action behind the curtain. One student who observed all the backstage action during "La traviata" wrote, "There's no better place to learn and grow than in a professional technical environment. Thank you so much for this unparalleled opportunity."
During Utah Opera's production of The Barber of Seville, West High School drama teacher Stacey Hutchings and two students participated as supernumeraries ("extras") through the rehearsal period. The production was canceled on March 12, a few hours before the final dress rehearsal was to begin, when Salt Lake County Arts closed all the theatres because of the pandemic crisis.
It was incredible to watch and learn from people who know their craft so well. As someone who wants to be in the professional theatre world this was a wonderful experience! Everyone was so generous with their knowledge and time. I loved every minute of it!

-Kjersten Danzig, student supernumerary

I was excited to get to take part in a professional production. It was really interesting to see the similarities between opera and regular plays, and what goes on behind the scenes.

-Julia Rzepecka, student supernumerary

I had such a wonderful time working as one of the flamenco dancers in the production. It was a really fun experience, getting to see how things work behind the scenes, getting to know everyone, and getting close to my fellow supers. I loved the environment that everyone created, everyone was very kind and nice to be around. I would absolutely do another production with Utah Opera again.

-Xendria Childs Hutchings, student supernumerary

I was incredibly excited to work on the production of The Barber of Seville as the Duchess of Alba. The camaraderie that was quickly formed within the Supers and leads of the show was so welcoming and enjoyable. It was wonderful to watch the performers and management work with my students and be so accommodating to our unique situation.

-Stacey Hutchings, drama teacher
---
During the 2020-21 school year, Utah Opera and West High Performing Arts did find a few ways to interact and support student learning, even while students were learning full-time from home:
West High Choirs were the first to experience Utah Opera's Resident Artists' hybrid program blending live (masked) singing and presentation intermixed with screen-shared opera scenes and short operas; they were also the first to see our filmed opera project The Better Man, an opera commissioned by Utah Opera in 2019.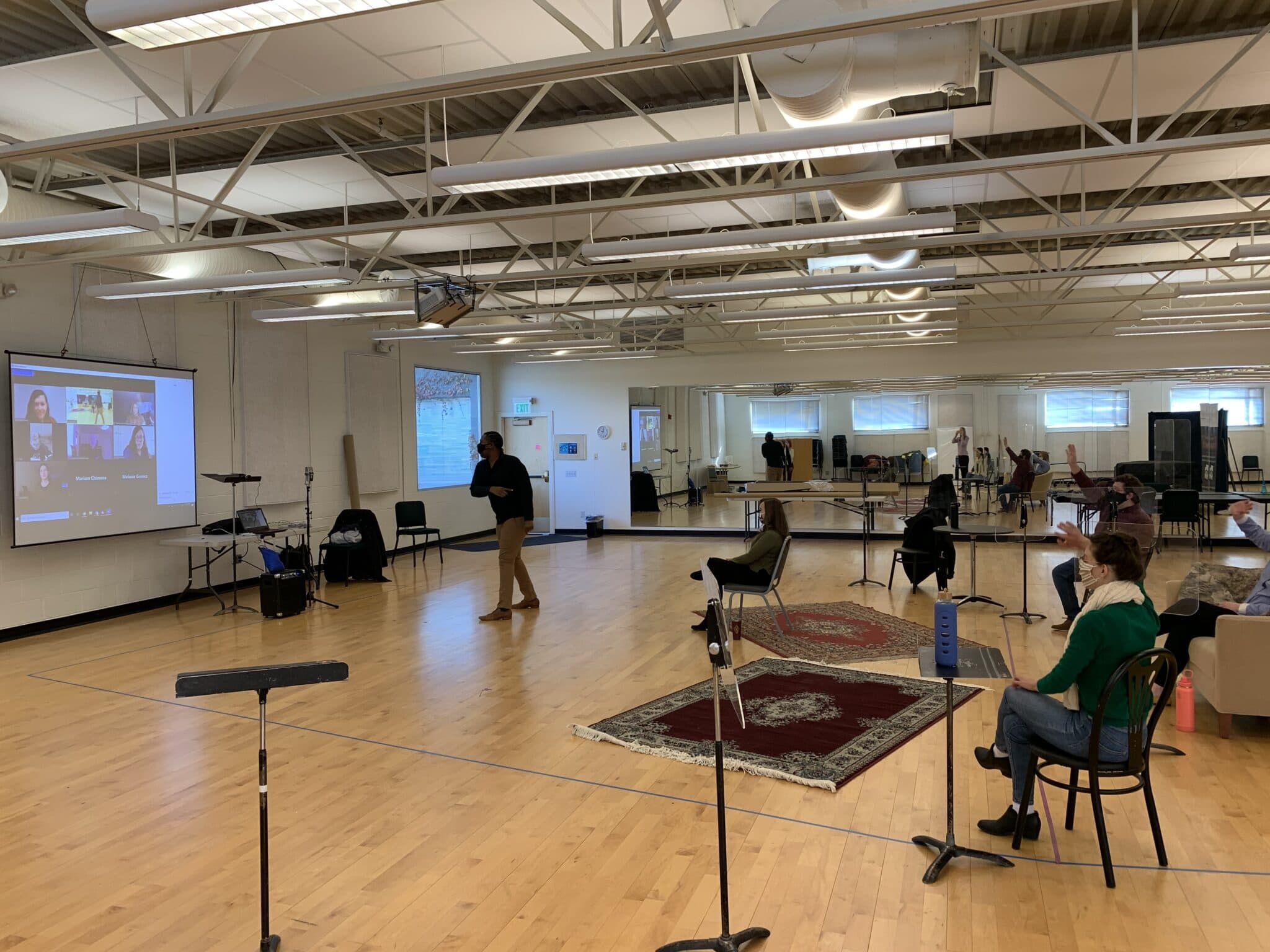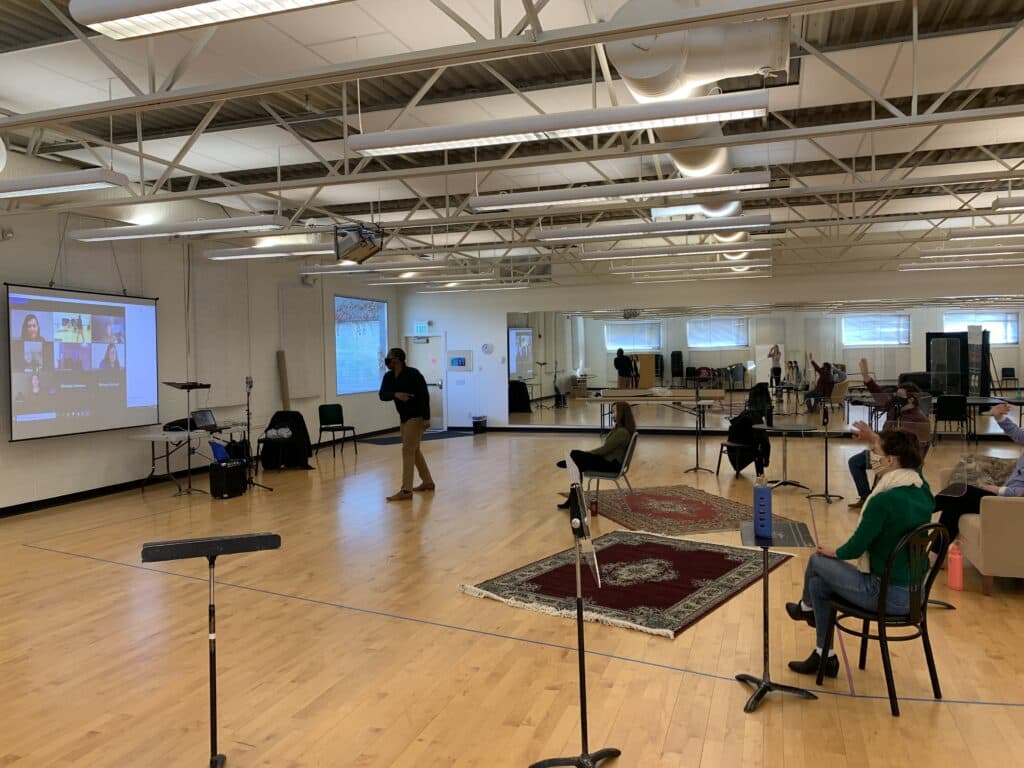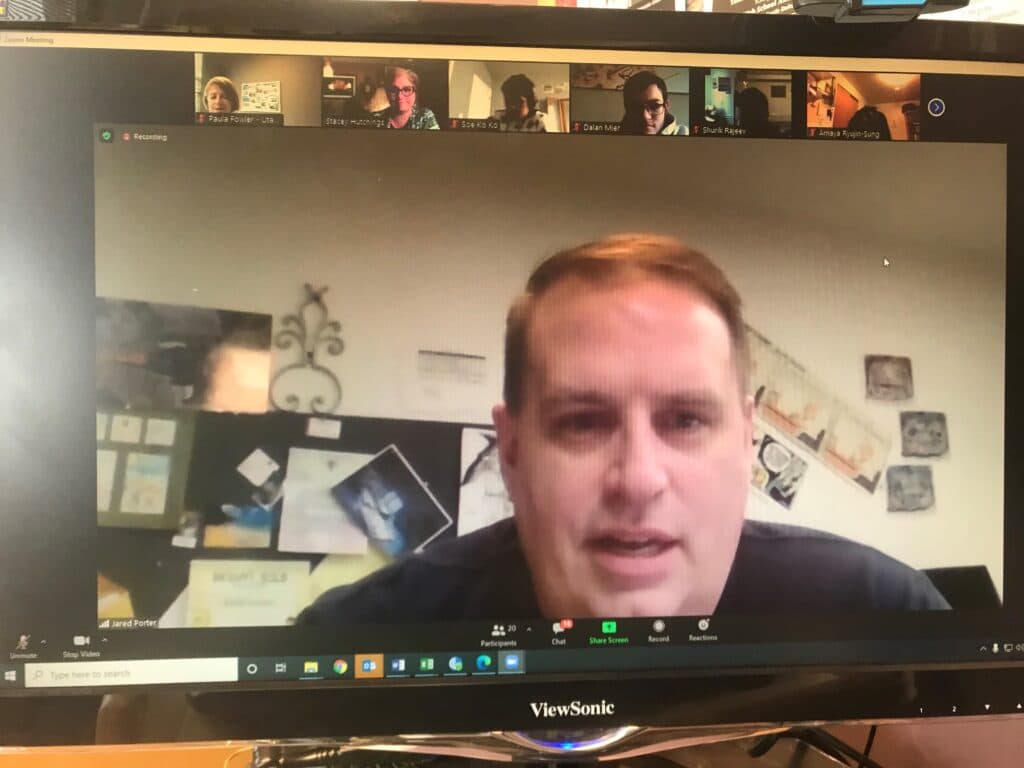 Utah Opera Senior Technical Director Jared Porter gave presentations about scenic design and other behind-the-scenes work for general theatre and stage crew classes.