16 Sep 2015
The Creators of Tosca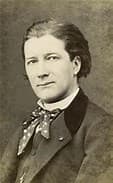 VICTORIEN SARDOU (5 September, 1831 – 8 November, 1908). When his plantation of olive trees was wiped out by a frost, Antoine Sardou moved to Paris where he struggled to make a living as a book-keeper and a schoolmaster, and it was in Paris that a son, Victorien, was born to him. Victorien began to study medicine but abandoned that because he couldn't afford it. He turned to private teaching: French, Latin, History and Mathematics. But he also wrote. Plays, in all genres, which were rejected or unsuccessful. He tried to interest the great actress Rachel, but she wasn't. Then in 1857, as if from a fairy-tale, there came an Angel of Mercy who introduced him to the actress Pauline Déjazet; she, running her own theatre, needed new plays. It didn't take Sardou long to figure out how to write a play which would appeal to both sides of the footlights, and a string of successes, in both Paris and London, followed. In 1882 he wrote his first play for the "divine" Sarah Bernhardt: Fédora. Two years later came Théodora and, in 1887, La Tosca. George Bernard Shaw, the great critic of London's theatre, was not impressed by these "well-made" plays: "Up to this day week," he wrote in 1895, "I had preserved my innocence as a playgoer sufficiently never to have seen Fedora. Of course I was not altogether new to it, since I had seen Diplomacy Dora, and Theodora, and La Toscadora, and other machine dolls from the same firm." He dismissed them all as "Sardoodledom"! Though he dismissed La Tosca as "an old-fashioned, shiftless, clumsily constructed, empty-headed turnip ghost of a cheap shocker," he was prescient enough to add "…if it had but been an opera!" The secret to the success of Sardou's plays, especially those written for Bernhardt, was, as he explained to younger colleagues, simple: "Torture the woman!" He usually began by writing the climax of the conflict, worked backwards to establish the conflict, and then forwards to its resolution. The resulting scripts contain a ton of exposition as various subsidiary characters explain the situation. This reduces the principal characters to "types" rather than real people, and without the presence of great actresses like Sarah Bernhardt or Eleanora Duse in the leading roles, his plays (he wrote over 50!) would have fallen by the theatrical wayside much sooner than they did. If he is remembered today at all it is because of the operas mined from the plays. Puccini's Tosca, of course. Fédora is Umberto Giordano's best-known opera after Andrea Chenier; his version of Madame Sans-Gêne was first seen at the Metropolitan Opera in 1915, but the play had been earlier (1903) turned into an operetta for London. Patrie! (offered to, but refused by, Verdi) was opera-ed twice, while Piccolino had three operatic adaptations, including one by Johann Strauss II. The operas based on Théodora and Gismonda are as forgotten today as the original plays. Sardou was awarded the Légion d'honneur in 1863, and elected to the Académie française in 1877. He died in Paris after a long illness in November 1908.

SARAH BERNHARDT (23/25 October, 1844 – 26 March, 1923). The exact date of Rosine Bernardt's birth is unclear, as the original record was destroyed in a fire in 1871.To prove her French citizenship when offered the Légion d'honneur, she created a false birth certificate on which she claimed to be the daughter of Judith van Hard and Édouard Bernardt. In fact, her mother was Julie Bernardt; her father was unknown. A baptismal certificate (she was baptized in 1857) says October 25, but her registration at the Conservatoire National gives the 23rd. By the time of the Légion d'honneur, Rosine was known the world over as Sarah Bernhardt – "The Divine Sarah," and few cared about an exact birth-date. At the age of 18 she made her stage debut at the Comédie Française in the title role of Racine's Iphigénie: an extraordinary achievement! She was fired from the company soon afterwards for slapping another actress across the face. She moved to Belgium where she became the mistress of Henri, Prince de Ligne; their son, Maurice, was born in 1864; the Prince's family refused to sanction marriage and the relationship ended. In 1866 she was back on the Parisian stage in the company at the Théâtre de L'Odéon where her roles ranged from the great classical ones of Racine and Molière to more contemporary fare. In 1872 she returned to the Comédie Française which permitted her to tour Europe and the Americas. Her arrival in England in 1879 prompted Oscar Wilde to throw an armful of lilies at her feet; thirteen years later he wrote Salome for her, though the planned production was banned by the Lord Chamberlain. In 1882 she was the heroine in Fédora, the first of a string of plays written expressly for her by Victorien Sardou. The string stretched over the next two decades and included Théodora (1884); La Tosca (1887); Cléopâtre (1890); the last of the "Sardoodlings" was La Sorcière in 1903. At the tender age of 54 she turned to Shakespeare: Cordelia in King Lear; the following year she played Hamlet, Cleopatra and Lady Macbeth. By now she had her own company in her own theatre, which she renamed after herself and which she directed until her death in 1923. The tours continued. In 1905, in Rio de Janeiro, at the even tenderer age of 61, she injured her right knee in Tosca's final leap from the Castel Sant'Angelo; by 1915 gangrene had set in and the entire leg was amputated. Not that that stopped her: she wore a prosthesis when performing – though she may have dropped the temperamental soprano from her repertoire! Her final performance was in a film, La Voyante, made in 1923 while she was mortally ill. In all, she made 11(silent) films, and you can see clips on youtube. There are also sound-recordings of excerpts from some of her roles. Even if you don't understand French, the extraordinary power and beauty of her voice shine through the sound of bacon frying that accompanies her. And it was THE VOICE that her audiences had always marvelled over. Here is Wilde: "…not until I heard Sarah Bernhardt in Phèdre that I absolutely realised the sweetness of the music of Racine." (Note the words "heard" and "music"!) George Bernard Shaw mentions "the golden voice," but puts it in quotation marks: his general complaint was that she had abandoned her classical roots in favor of crass commercialism. Maybe she was the first great artist to rank money-making above serious art, but she was certainly not the last to have such a charge leveled against them!

LUIGI ILLICA (9 May, 1857 – 16 December 1919). Born in Northern Italy, he quit his studies in Cremona and went to sea for a few years, battling the Turks at Pleven in 1877 – one of those eighteenth/nineteenth-century European battles against a threatened Turkish invasion! It may have been during these years of travel that he lost his right ear in a duel over a woman. On his return to Italy he dedicated himself to journalism, and published stories, plays (mostly comedies) and poetry. His second libretto was La Wally for Catalani. The opera was successful enough to bring him to the attention of Ricordi, which led to librettos for Puccini: Manon Lescaut (he was one of a quintet who worked on that text!); La Bohème; Tosca; and Madama Butterfly. He wrote the libretto for Andrea Chenier, Giordano's first, and only great success; as well as that for Iris, Mascagni's lurid, and pre-Butterfly, adventure into Oriental melodrama.

GIUSEPPE GIACOSA (21 October 1847 – 1 September 1906) studied law at the University of Turin but, though he graduated in 1868, never pursued a legal career. His first play was written in 1866, but it wasn't until 1871 that he met with any success, and from then on there was a steady flow of plays, novels, stories and poetry. He was a member of the scapigliature, an artistic movement which originated in Milan and spread to Turin and other Italian cities. The word itself means "disheveled," but incorporates the French notion of "Bohemianism," whatever that means! The movement grew to include not just writers, but musicians and painters as well. Basically it sought to energize Italian literature, music, painting and sculpture by incorporating influences from France (Gautier and Baudelaire), from Germany (Heine, Hoffmann and, especially, Wagner) and from America (Edgar Allen Poe). Giulio Ricordi recruited him to contribute to the libretto of Puccini's Manon Lescaut; after that he versified Illica's scripts for La Bohème; Tosca and Madama Butterfly.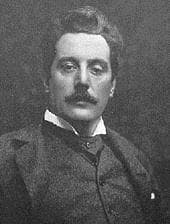 GIACOMO PUCCINI (1858 – 1924) was the last in the line of great Italian operatic composers that began with Claudio Monteverdi in the early seventeenth century. No opera company could survive without regular infusions of La Bohème, Tosca and Madama Butterfly, while occasional injections of Turandot, La Rondine, Manon Lescaut, La Fanciulla del West and at least two-thirds of his triple-bill (Suor Angelica and Gianni Schicchi) are required to help season-ticket sales. He was also the last of four generations of church musicians in Lucca. He studied there, and was awarded a scholarship to the Milan Conservatory, where his professors included Ponchielli (of La Gioconda fame) who suggested he should write an opera. This was Le Villi. It attracted the attention of Giulio Ricordi (the major music publisher in Italy at the time); after some post-first-performance revisions, it was given at Milan's La Scala in 1885. His second opera, Edgar, had a luke-warm reception at La Scala in 1889. Manon Lescaut established his credentials as, in George Bernard Shaw's words, "the heir of Verdi." It's interesting that the initial critics were remarkably cool, if not downright icy, to his operas, while audiences (with the exception of those attending La Scala's première of Madama Butterfly) loved them, and have continued to love them. Even today some critics hold their noses when confronted with his operas. A furious smoker, he developed throat cancer and died in Brussels after undergoing experimental radiation treatment. Turandot was left unfinished. But that's another story!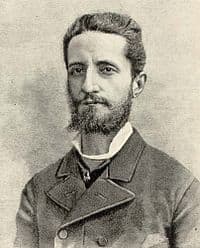 GIULIO RICORDI (1840 – 1912) should also be included here. He was the grandson of Giovanni who founded the music-publishing house which was responsible for promoting the careers of Bellini, Donizetti, and, especially, Verdi. He recognized the potential of the young Puccini and insisted, against his Board's opposition, that the company support him financially. He acted as mediator between Illica, Giacosa and Puccini: sometimes, in a letter, calming the ego of one or other them; or summoning all three to a meeting in Milan to iron out their differences. Many were the differences and much the calming that was required!
© Dr. Paul Dorgan
Tags