05 Oct 2015
Making it Real
Like many opera composers in the late 19th century, Giacomo Puccini aimed for a greater 'truth in theatre' than had existed in operas of the past century. The established bel canto opera tradition of the time included all kinds of conventions that resulted in operas focused more on the technical abilities of the singers than the emotional journeys of the characters they portrayed. Puccini wanted to create stories and musical experiences that were more connected to reality.
Puccini's Tosca, which premiered in 1900, manifests its creator's dedication to realism in many ways. First of all, in the setting: Tosca's story occurs in known buildings, in an existing city, in the midst of an actual historical event, all in the space of one day. It takes place in Rome on June 17, 1800, the day of Napoleon's triumph in Marengo. At first the battle is reported as a loss for Napoleon, who at that time was a champion of freedom for the common man. Thus the charming artist Cavaradossi is a Napoleonsympathizer; and the corrupt chief of police, Scarpia, opposes Napoleon and his democratic ideals. It's a bit confusing to those of us who know what Napoleon pursued after 1800—but the allegiances in the opera are true to the actual partisanship of the times. The source of Tosca's story was Victorien Sardou's 1887 play La Tosca, written as a showpiece for the famous actress Sarah Bernhardt. The stage play had 5 acts and featured 23 characters, and so, like every play turned to opera, needed great reduction. Librettist Luigi Illica had already written a libretto based on the play for another composer (who was talked out of the project once Puccini expressed interest). The poet Giuseppe Giacosa was added to the team to create the libretto's lyrical moments. Giacosa was reportedly never happy with this project: he complained that the whole opera was just a series of duets, and concluded that while La Bohème (1896) had been all poetry and no plot, Tosca was all plot and no poetry. Puccini must have felt the sacrifice a valuable one, and most of us (not named Giacosa) still find plentiful poetry remaining in this libretto.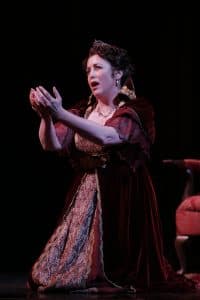 Despite Giacosa's grumblings, two of his own greatest poetic achievements do live on in this opera: Tosca's "Vissi d'arte" and Cavaradossi's "E lucevan le stelle." The tale of each of these arias gives testament to Puccini's dedication to realism in theatrical presentation, and his concern that a moment focused on poetry might disturb the flow of an energized plot.
Puccini considered removing Tosca's heart-rending aria "Vissi d'arte" from the opera altogether because it brings the action in Act II to a total halt. Just before the aria, Scarpia has promised to stop physically torturing Tosca's boyfriend if she will divulge information; moreover, he will agree to fake Cavaradossi's scheduled execution if she will 'give herself' to Scarpia. Everything comes to a stop as Tosca grapples with this horrible decision. She sinks into herself and sings, 'Why, when I've always been a good person, and have dedicated myself to art and love, why am I faced with this terrible situation?' Puccini worried that this musical number halted the drama that otherwise hurtles forward in this tensionfilled act. But the emotionally powerful aria stayed.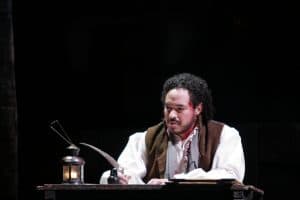 Puccini also did battle over Cavaradossi's Act III aria "E lucevan le stelle," but this time his warfare was with the librettists, who wanted the painter's final words before his execution by firing squad to be a farewell to art and life. Puccini insisted that a man facing a death sentence would spend his last moments inwardly saying goodbye to his beloved. And thus we have this wonderful aria, because Puccini insisted it would be more realistic.
Not only the subject matter, but the musical style of this aria also demonstrates his dedication to authenticity. Instead of the traditional format of recitative, orchestral introduction, and then aria, Puccini starts with just the orchestra accompanying stage action. Then, after Cavaradossi begins writing his farewell letter to Tosca, a quartet of cellos plays the music of the Act I love duet, wordlessly communicating to us that Cavaradossi is thinking of his beloved. The next development features the young man chanting on a single note, while underneath, a solo clarinet starts musicalizing the emotion that is just beginning to develop into words. When Cavaradossi finally finds the words, he catches the wave of the melody already introduced by the clarinet, and sings it into fully-orchestrated musical expression of true human sorrow, yearning, and love.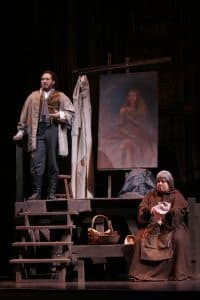 Puccini used a different technique for realistic effect in Cavaradossi's Act I aria: as Cavaradossi compares the beauty of two women, Puccini inserted the Sacristan's mumblings throughout. It just wouldn't be realistic that the Sacristan stops thinking just because the tenor is singing, so he is allowed to interject.
Puccini's sense of verisimilitude extended to smaller details as well: he researched the 'Te Deum' plainsong melody used in the Act I 'Te Deum' so that his opera uses music actually sung in churches in Rome. He studied the order of the Cardinal's procession in that same scene, and investigated the style of the Swiss Guard costumes of 1800 himself. He checked the exact pitch of the great bell at St. Peter's so he could write it into the orchestration, and made a special visit to hear the matin (morning) bells from the ramparts of the Castel Sant'Angelo.
In so many ways, Puccini's Tosca is not realistic: it's opera, after all. Opera is always going to be—as we like to say—of "operatic proportions," larger than life. But clearly, Puccini cared that his audience would be able to believe the story of his Tosca. He wanted to head in the direction of greater realism than he had seen in the operas of his day. In musical creation as well as story-telling, he attended to details and effects that would help the drama hit home. And perhaps it is Puccini's expressive music accompanying all the action—that element that defines opera as perpetually different from real experience—that does the most effective work of drawing Tosca's story and characters into our hearts. It may not ultimately be realistic, but it feels true to life.
by Paula Fowler, USUO's Director of Education & Community Outreach.
She has been writing opera commentaries for Utah Opera for more than 15 years.
Tags