03 Mar 2016
The Creators of Aìda
GIUSEPPE VERDI
As the composer, Verdi gets his own "Chapter," and another one which lists all his operas and where and when they were first produced.
ANTONIO GHISLANZONI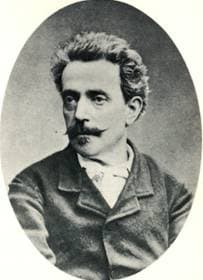 Born in Lombardy in 1824, Ghislanzoni's parents intended him for the priesthood, and sent him to a seminary. Whence, in his late teens, he was expelled for bad conduct.   He then decided to study medicine in Pavia. That was abandoned when he discovered he had a marketable baritone voice. His singing career was interrupted by his political views which, under the inspiration of Giuseppe Mazzini who was actively advocating the Unification of Italy, led him to found a couple of Republican-leaning journals in Milan in 1848. Not a good year for those opposed to the political divisions of what is now Italy and also what is now Germany.  Revolutions flared up.  Ghislanzoni was arrested in Rome, spent a short time detained in Corsica, but resumed his singing career, which, despite the interruption, was good enough to be engaged to sing the role of Carlo in Verdi's Ernani in Paris in 1851. Prone to bronchitis, he quit singing and turned to writing full-time.
In 1856, back in Milan, he published his first, and most successful, novel.  Others followed, but he became better-known as the editor of La Gazetta Musicale and its off-shoot Rivista Minima, both published by Ricordi, who was Verdi's publisher.  In 1857 he wrote his first libretto, Le due fidanzate, a melodrama serio, with music by one A. Bauer, which must have been successful enough because Il conte di Leicester, a melodrama, (music also by the mysterious A. Bauer) was given the following year.  Some sources tell us that over eighty librettos followed, though it seems the real number is closer to half that.  But even forty in the last half of the nineteenth century is a remarkable output!
Now comes a quiz!  1):  Who was Vladimir Kashperov?   If you answered "Never heard of him," I'd be right there with you!  Obviously Russian, he lived in Italy from 1857 to 1865, where he composed two operas to Ghislanzoni librettos:  Maria Tudor (1859), possibly based on the Schiller play which was the basis for Donizetti's Maria Stuarda (one third of the "Three Queens" trilogy the Metropolitan Opera is producing this season for Sondra Radvanovsky) and Cola di Rienzi (1863), presumably based on Edward Bulwer-Lytton's 1835 novel Rienzi:  Last of the Roman Tribunes. Wagner's Rienzi, by then two decades old, would have been unknown in Italy, since it wasn't until 1871 that one of his operas – Lohengrin – was produced, in Bologna.
But, back to the quiz!  2):  Antonio Carlos Gomes?   He was a Brazilian composer sent to study in Italy. His Il Guarany was a huge success at La Scala in 1870 and established his reputation.  Ghislanzoni subsequently wrote two librettos for him, but neither were particularly successful.  3):  How about Giovanni Bottesini?  But see below.  4): Some of you will recognize the name of Amilchare Ponchielli. He also set two Ghislanzoni librettos, one of which, I Lituani, was fairly successful and was even produced in Chicago and Toronto as recently as the 1980s. Ironically, his greatest success, La Gioconda, first performed in 1876, was adapted by Arrigo Boito (Verdi's librettist for Otello and Falstaff) from the same Victor Hugo play which was the source of Ghislanzoni's text for Gomes's opera Fosca.  A tangled web indeed!  5): How about Alfredo Catalani?  La Wally holds a very tenuous place in the operatic repertoire;  but, as we now can guess, G's libretto for him preceded that success.
The Fates were not kind to Antonio Ghislanzoni.  He was, according to Grove's Dictionary, "[a]fter Boito…the most important Italian librettist between 1860 and 1890." It's sad that most of the composers he wrote for were nonentities, and ironic that those who were relatively successful achieved their greatest successes without him.
And then along came Giuseppe Verdi.
Tito Ricordi proposed a production of La forza del destino at Milan's La Scala for 1869, but the immediate problem was finding a librettist to make the changes that Verdi, after its Russian première (in November 1862) as well as after its Spanish one in Madrid the following year, considered necessary. Piave, the original librettist, had been incapacitated by a stroke. Ghislanzoni was proposed and Verdi approved.  The major problem was the final scene which, both agreed, needed to be changed.  Verdi sent his new librettist a prose version of what he wanted.  Ghislanzoni provided the verses.   For a production of Don Carlos (originally in French) in Naples in 1872, Ghislanzoni wrote the required new lines. So it was logical that Verdi would turn to him for Aïda.
Auguste Mariette.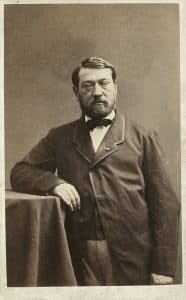 It may seem odd to credit a French Egyptologist with a role in the creation of Aida, but without the contribution of Auguste Mariette, Verdi's opera might well have been a very different thing.  Born in Boulogne-sur-Mer, in northern France,  in 1821 he became fascinated with Egypt when it fell to him to sort through the papers of a deceased cousin, an artist, who had accompanied Jean-François Champollion to that country. Side-bar here!  Napoleon, between 1797 and 1801, effectively brought Egypt under French control. His campaigns first uncovered to Western eyes the wealth of history there.   Not just its various monuments, but also its various ancient languages. Of course the French plundered what they could and brought it home: even the Boulogne Museum had its collection of Egyptian stuff.     Champollion, fluent in both Coptic and Arabic, deciphered the hieroglyphics (think the Anasazi petroglyphs) of the so-called "Rosetta Stone".   MORE!!!  Mariette taught himself that language and also Coptic.
Tags