04 Jan 2017
Part III – Man of La Mancha and Adaptation
If Don Quixote presaged the emergence of metafiction and the dislocation of authorial authority, Man of La Mancha perhaps likewise marked the beginning of the late-20th century conceptual musical in which the entire proceedings seem to have a set of quotation marks around them, even if the form of Man of La Mancha is very much in the mold of classics by Rodgers and Hammerstein, et.al. The audience of La Mancha is made complicit with the creators, in a sense, as they are watching a play within a play within a play (Wasserman 185-86). This aspect perhaps explains some of the shortcomings of the film version of Man of La Mancha, because rather than foreground the fact that the characters in the play are themselves acting out a story, the film instead puts us into a fully realized world with a real inn, real windmills, etc. Later examples of similar framing devices can be found in musicals like Stephen Sondheim's Sweeney Todd: The Demon Barber of Fleet Street (1979), which is told mostly in flashback, and Andrew Lloyd Webber's Cats (1981), in which the "cats" onstage become aware they are being watched. As a result they often break the fourth wall and address their audience directly.
Even if Man of La Mancha approaches its source material from a rather oblique angle, it should be noted that is far from alone in this regard. All adaptations of Don Quixote for the screen or stage must contend with the novel's difficulties, although it might be said that the myriad themes and epic scope of the novel are a significant part of its appeal. Indeed, an attempt at a faithful stage or film adaptation of the novel (of the sort seen recently with the Lord of the Rings and Hobbit movies) might not be possible or even desirable. Generally, most Don Quixote adaptations choose individual episodes of the novel for dramatization in order to distill the massive and multifaceted novel down to a manageable libretto, playbook, or ballet.  Perhaps the most ambitious adaptation was one of the first, The Comical History of Don Quixote (1694), a three-play cycle by English playwright Thomas D'Urfey with music mostly by Henry Purcell. Subsequent operatic treatments by Francesco Bartolomeo Conti (Don Chisciotte in Sierra Morena, 1719), George Phillip Telemann (Don Quichotte auf der Hochzeit des Camacho, 1761), and Felix Mendelssohn (Die Hochzeit des Camacho, 1827) are each centered on isolated episodes from the novel. Jules Massenet's opera Don Quichotte (1910) focuses on the relationship between Don Quixote and Dulcinea, who is reimagined as a flirtatious town beauty who inspires the elderly Don Quixote's adventures, rather like Aldonza in Man of La Mancha but without the degradation, abuse, and pathos.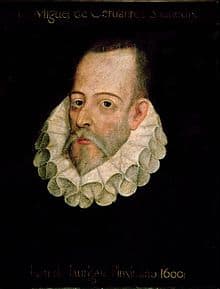 Man of La Mancha draws not only on the characters of Don Quixote, but also on the life of Miguel Cervantes himself, although with a similarly loose connection to the actual facts of his life. As noted, the musical begins when the actor/playwright Cervantes and his servant/propmaster are imprisoned by the Inquisition on the charge that Cervantes had foreclosed on a monastery during his previous career as a tax collector. Although an entirely fictitious scenario, it does parallel aspects of Cervantes' actual biography. Cervantes did in fact spend some time imprisoned, first as a captive of Ottoman pirates in Algiers from 1575-1580, and a second time as a result of financial misdealings during a period working as a purchasing agent for the Spanish Navy. He did in fact work as a tax collector while he was writing Don Quixote. Finally, although the Inquisition did not figure in Cervantes' life in any major way, scholars have advanced a theory that he was descended from conversos, Jews who converted in the 14th and 15th centuries. Some have even posited that the "stain" of la Mancha could refer to this Jewish heritage. However, even if Cervantes himself did not run afoul of the Inquisition per se, conversos and moriscos continued to suffer legal restrictions, persecution, and discrimination, including capital punishment, due to suspicion that they were continuing their original religious practices. There is some conjecture that Cervantes' failed attempt to secure a position in the New World in the years immediately prior to the publication of Don Quixote might have been scuttled due to his status as a converso. In any case, this aspect of Cervantes' life perhaps illuminates the undercurrent of social rebellion in Don Quixote.
Materials created by Ross Hagen.
Tags