20 Jan 2019
Q & A

Andrew Stenson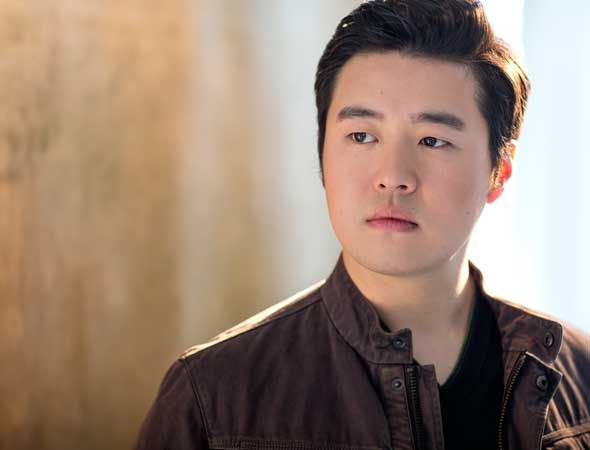 Tenor Andrew Stenson returns after his Utah Opera debut to sing the leading role of Tamino in "The Magic Flute." He shares his love of music – and his passion for cooking as well as his favorite chicken recipe and SLC restaurant haunts.
How do you prepare to play a role like Tamino?
Tamino is fortunately an easier evening for tenors!  There is a LOT of German to keep in your head, but fortunately our dialogue is in English!  The big recit with the Sprecher is one of the most difficult scenes Mozart composed, so I try to run through that in my head everyday.
You're returning after your 2014 debut as Belmonte in "Abduction"…. How does it feel to come back to a familiar company versus debuting for the first time?
I LOVE returning to companies and I've been dying to get back to Utah Opera!  The food in SLC is SO GOOD!  I'm also fully prepared for the altitude adjustment this time around!
What inspired you to pursue opera? Were there other career pathways you envisioned for yourself?
I originally wanted to be a chef but ended up going to college for a Bachelor of Arts and ended up falling into music.  When I saw my first opera at Minnesota Opera (Carmen) I fell in love immediately and I've been in the right place at the right time ever since!
What other interests or hobbies do you have that audiences may not know about?  
I LOVE to cook.  I frequently travel with an extensive kitchen set and a really fancy rice cooker.  Also, in June 2018 I got my Sommelier Certification through the Court of Master Sommeliers and wine is also a big hobby of mine.
Favorite Recipe:
In the bird vein, I like Thomas Keller's roast chicken recipe which is: chicken, salt, pepper and technique. You pat the ENTIRE chicken dry with paper towels inside and out, season the whole bird inside and out quite liberally, and roast at 450 until the thickest thigh piece comes up to 160-162 (resting will bring it up to a safe 165). The key is to make sure the skin is SUPER dry and the chicken comes up to room temp before you put it in the oven.
Favorite SLC Restaurants:
I went to Tony Caputo's almost every day when we were performing, but I also loved Siegfried's Deli (down the street from Janet Quinney Lawson Capitol Theatre). Himalayan Kitchen has the best Indian food I've had since Krishna/Deep India in Cincinnati (which REALLY means something to anyone who went to the University of Cincinnati College-Conservatory of Music (CCM).
Tags