05 Oct 2020
UTAH OPERA'S COVID PIVOTS
by Paula Fowler
The Governor's announcement on Thursday March 12 giving Utahns notice to close down all activity came at a terrible time for Utah Opera:  that very evening should have been the final dress rehearsal of our delightful production of The Barber of Seville. We had been expecting 1100 secondary school students to attend.  Throughout the afternoon, our Ticket Office called ticket holders about the cancellation, and in the early evening, I stood by the front doors of the Janet Quinney Lawson Capitol Theatre, which was suddenly closed until further notice, to break the news to the few groups who hadn't received word.  There wasn't even time (or safety) in which to make a recording of what we would have shared with Utah audiences over the next two weeks.
Waves of shock followed, as we gradually realized that schools would be closed the rest of the year. That meant our Resident Artists wouldn't be traveling daily to schools, or to Cedar City and Parowan in April for school and community concerts, as we had planned. Soon enough, our May production also had to be cancelled.
---
FIRST COVID PIVOT – Spring 2020  
Utah Opera made its first COVID pivot and began featuring aria and artsong recordings by artists from the Barber cast and our Resident Artists on our YouTube channel.  These were beautiful performances, but filmed in a simple single-shot manner, with cameras that are generally just used for archival recordings.  Arts organizations devoted to live performance are not well equipped with special audio and film equipment, so we did what we could with what we had at the time.
Utah Opera Principal Pianist and Coach Carol Anderson quickly turned the idea of her live Prelude presentations into a Facebook Live series to accompany the performances shared nightly by The Metropolitan Opera.  All told, USUO released 52 introduction videos mostly created by Carol, with Resident Artist Taylor Burkhardt and Chorus Master Michaella Calzaretta stepping in to help with a few.
Our Education Department was able to make perhaps the swiftest pivot.  We quickly posted an archival version of our elementary program "Who Wants to be an Opera Star?" for elementary school use, and our Resident Artists filmed a social-distanced, be-gloved version of their high school "Opera Up Close" presentation for choir classes.  They produced other resources from their homes using their phone cameras:
FAQ videos, using questions they often answered in elementary school assembly programs
"Breathing Like an Opera Singer," and "Warming Up Your Voice with an Opera Singer" instructional videos
A 5-part Italian artsong lesson, which voice students could use to learn "Caro mio ben"; materials include PDFs and accompaniment recordings in high and low keys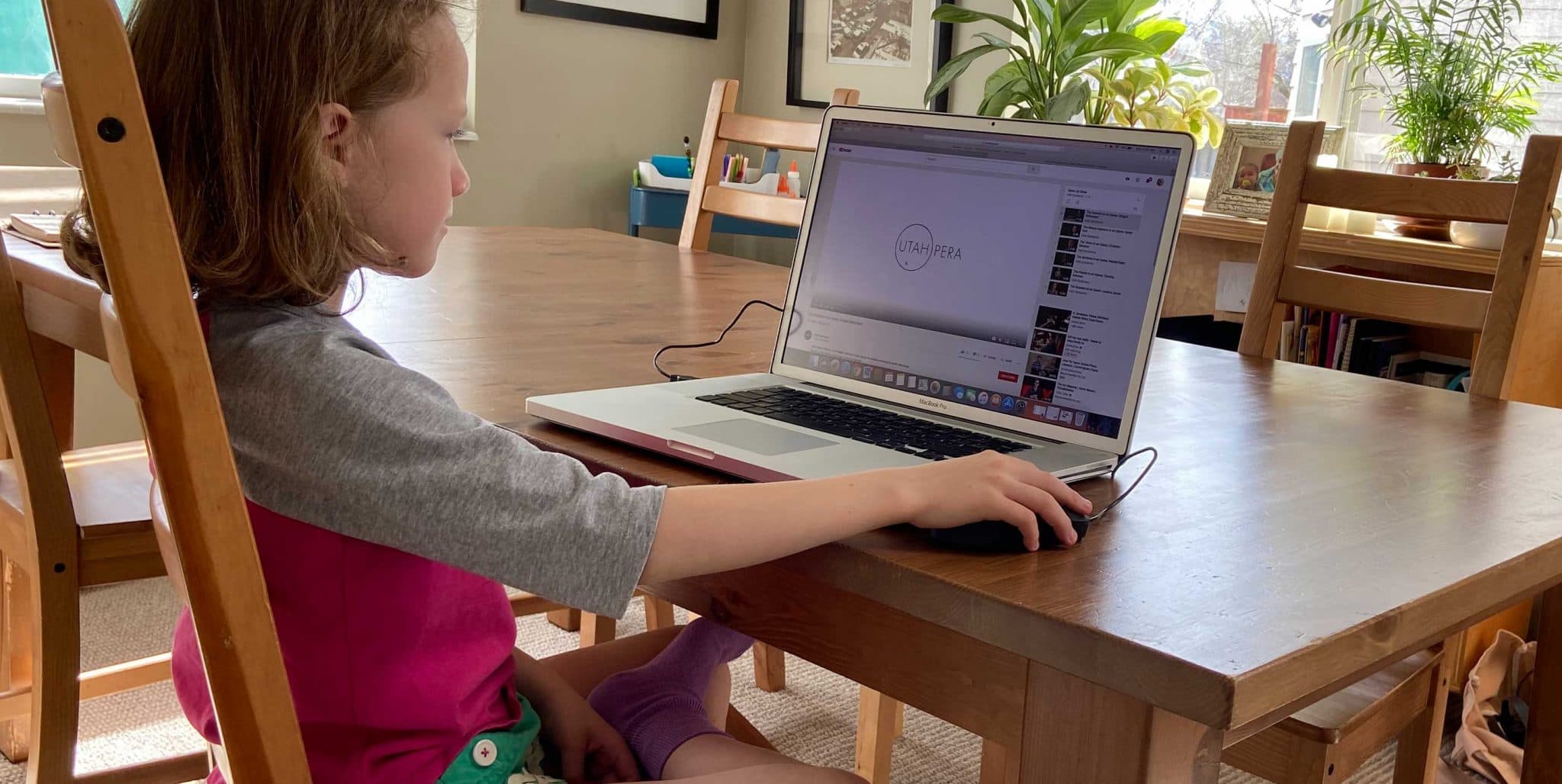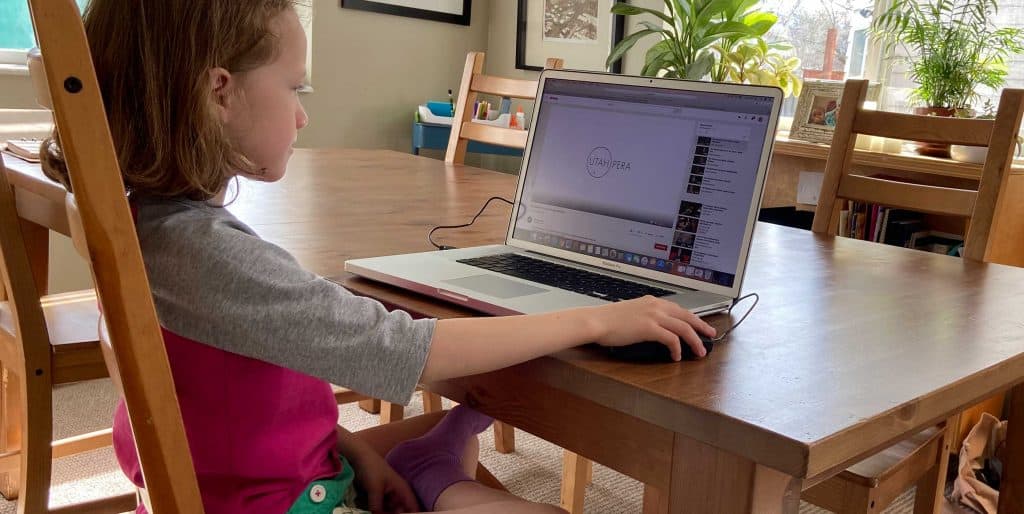 We ramped up the resources available on our website with these elements, joining them to our Library of Opera Voices and our Introduction to Opera PowerPoint, always available to teachers.  We named our resources "School from Home," and sent out news of their availability to principals and teachers across the state. One teacher wrote asking for information about opera costuming, and our Costume Director created a photo story in response, now also available online.  We added subtitles to our 10-minute Golden Spike opera videos from May 2019, and created accompanying education materials. We initiated an "Ask a Singer" form on the website, so students could engage with specific questions for our singers.  It's still available – you could use it too!
During the summer months, we collaborated with a few of our established community partners to present actual live singing: three of our Resident Artists from 2019-20 were still in town, and we engaged them for a concert in the Gallivan Center with the Excellence in the Community Concert Series, where they performed live, and the event was streamed over Facebook (it's still available on the Excellence website).  The same artists performed live and in-person from the back of a lowbed trailer in Kamas and Park City one July afternoon, in collaboration with Art Pianos and Summit County Arts.
A highlight of the summer opera offerings for all of us was the month-long availability of our archival recording of The Little Prince.  Principal Coach Carol Anderson hosted a pre-viewing online party with many of the prime players in the original project, and families could then enjoy that glorious production online together.
---
SECOND COVID PIVOT – Fall 2020
The Utah Opera staff committed to the preservation of the company during the summer of 2020.  Many staff members took furlough weeks and months, but in the backs of brains, and for those on actual duty at any time, a variety of contingency plans were explored.  Artistic Director Christopher McBeth led the charge in coming up with alternate fall programming for the Janet Quinney Lawson Capitol Theatre, with safety in mind.  Other safety procedures were added by Salt Lake County Arts:  patrons are seated as they arrive, and patron egress is managed by ushers. Additionally, our Ticket Office created the USUO App, so we have contact-free ticketing and program access.
The impossibility of presenting our planned production of Wagner's The Flying Dutchman (the size of the orchestra, cast, and chorus) offered the company the opportunity to present smaller works connected by a current theme—experiences with  isolation—that also allow for performer safety.  The cast for each work is just 1 or 2 people.  The orchestra called for is smaller, but still can't be safe in a confining orchestra pit, so the symphony musicians will be on stage behind the singers, separated from them by a scrim on which backdrops will be projected.
Our Education programs have shifted yet again with programs that will connect our artists with classrooms.  With more time to prepare, and more knowledge now about quality of recording, we have re-created our assemblies and in-person programs for digital presentation. We hired professional videographers and designed these new programs for sharing via classroom screens. Our new resources are collected under the title "Connecting to Classrooms" on the Utah Opera website.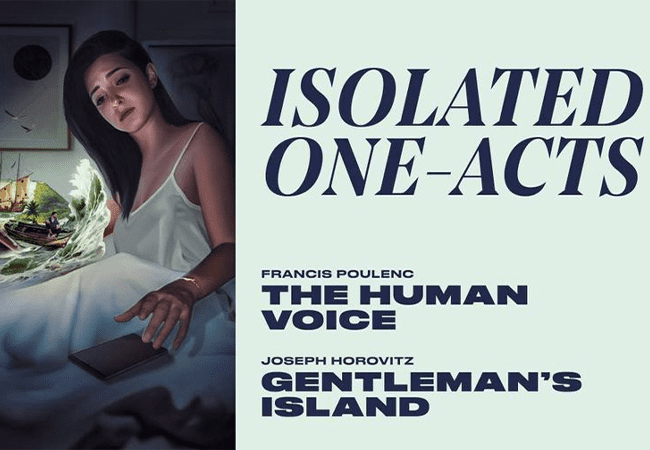 We realized–because we were filming–that we could go all out with costuming, and also with sharing more behind-the-scenes information about the world of theatre.  So our opera scenes for school programs this fall include fully-costumed scenes recorded in delightful locations around the Janet Quinney Lawson Capitol Theatre, as well as fun spots around our Opera Production Studios, including our Costume and Scenic Shops.  When our "All About Opera: Classroom Edition" program is edited and ready for sharing in mid-October, it will be available to elementary school classrooms statewide through the Utah Education Network.
We are also expanding technical equipment for our Education Department with the kind of set up available in every classroom, so that our five professional Resident Artists can interact live with secondary school choir classes with a new version of their "Opera Up Close" program.  We have pre-recorded some scenes to show students opera in full production, and the artists will also perform and discuss music history, opera, and careers in music in real time with individual classes.
There's nothing like live performance:  the sound of live trained voices resonating around a theatre; the spectacle of professional sets, props, costumes, and lighting; and the connection of an audience with the performers and each other.  With our high school live but virtual program, and with the opportunity offered to elementary school classrooms for a live Q&A with one of our artists after viewing our "All About Opera" presentation, we aim to be as live as possible, and still present great performances with professional artists to Utah teachers and students.
Tags