05 Mar 2022
Tosca online course by Dr. Carol Anderson

Part 4. Puccini: Verdi's Heir
by Dr. Carol Anderson
Giacomo Puccini was born in 1858 in Lucca, a picturesque village in northwestern Tuscany, to a family long-steeped in the traditions of liturgical music. Giacomo's great-great-grandfather, also called Giacomo, was the first Puccini to hold the position of maestro di cappello at the Cattedrale di San Martino, followed by Antonio, Domenico, and Michele, father of Giacomo. It was expected that Giacomo would uphold the family tradition, but he was only six years old at the time of Michele's death. Nevertheless, he participated in cathedral life as a choirboy and later as church organist.
After years of local seminary and music education, Puccini matriculated at the Milan Conservatory, where his roommate was Pietro Mascagni, the eventual composer of Cavalleria Rusticana and other operas. Three years of study in Milan culminated in his thesis composition Capriccio sinfonico, one of just a few non-vocal compositions in his output. Favorable reviews of this work led to conversations about next steps with Puccini's teacher, opera composer Amilcare Ponchielli. His first opera, Le villi, written for a competition (which it did not win) was staged in 1884 and sufficiently impressed Giulio Ricordi, head of the legendary music publishing house, to commission Puccini's next opera, Edgar. Edgar was a critical failure, which led to a near-miss for operatic history. The board of directors lobbied for the cessation of further subsidy for Puccini's career, but Ricordi remained steadfast in his backing of the young composer.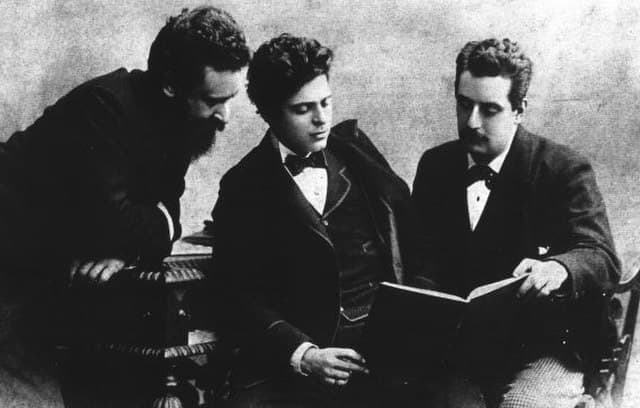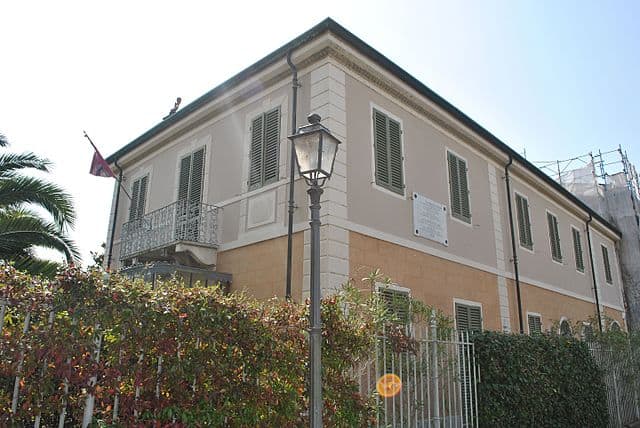 With the success of Puccini's third operatic endeavor, Manon Lescaut, Ricordi's support proved to be well-founded. Puccini's early challenges in finding the right libretto partners for his first operas led him to Luigi Illica and Giuseppe Giacosa, who swept in to complete the libretto for Manon Lescaut, and the triumph of this work at its 1893 Teatro Regio premiere established him as the "heir apparent" to the great operatic maestro, Giuseppe Verdi. After its London premiere, critic and playwright George Bernard Shaw declared Puccini "more like the heir of Verdi than any of his rivals."
Puccini's next works continued to build his reputation and grow his partnership with Illica and Giacosa. Together they created some of the masterworks of Italian opera, La bohème (189 ), Tosca (1900), and Madama Butterfly (1904 final version). After 1904, life circumstances interfered with Puccini's productivity. He became embroiled in a scandal when his wife Elvira accused him of infidelity with their housemaid, Doria, at their home in Torre del Lago. Trigger warning: Unable to handle the humiliation, Doria eventually committed suicide and a post-mortem examination found her to be innocent of any adultery.
After the fertile period around the turn of the century, Puccini's compositions became less frequent. 1908 saw the world premiere of La fanciulla del West at New York's Metropolitan Opera. Like Butterfly, Fanciulla was based on a play by the American writer David Belasco. Puccini's command of the English language was rudimentary at best; it speaks to the power of both these dramas that he was inspired to set these stories to music. Puccini's next project was an operetta in the style of the Viennese composers, La rondine, commissioned by the Carltheater in Vienna. Ricordi's son Tito was in charge of the publishing house at this time, and declined to publish the operetta, criticizing it as "bad Léhar." Ricordi's rival publisher, Lorenzo Sonzogno, arranged a rescheduled premiere in Monte Carlo and agreed to distribute the score. Puccini returned to Ricordi and the Italian tradition for 1918's Il trittico, a trio of one-act operas united by the theme of concealed death.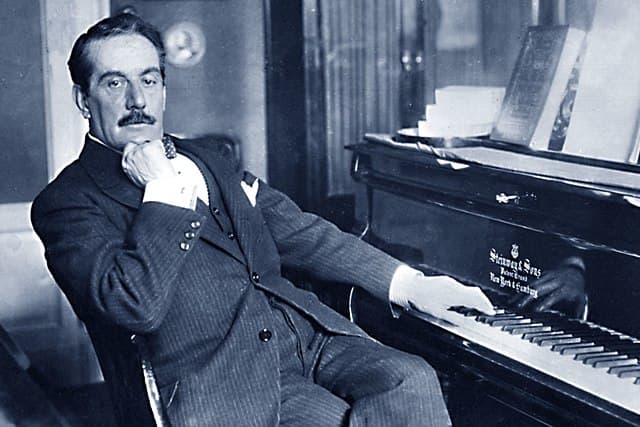 A habitual chain smoker, Puccini began to complain of a sore throat in 1923. A diagnosis of throat cancer led him to seek experimental radiation treatment in Brussels. Complications from the treatment led to his death from a heart attack on November 29, 1924, with his final opera, Turandot, held in his arms, unfinished. Franco Alfano was commissioned to complete the final scenes of the opera using Puccini's sketches. At its La Scala premiere, Maestro Arturo Toscanini ended the performance where Puccini's score ended, declaring "qui finisce l'opera, perché a questo punto il maestro è morto (here ends the opera, for at this point the Maestro died.)"