22 Apr 2022
2022-23 Season Opera Insights: Donizetti's "The Daughter of the Regiment"
by Kathleen Sykes
Operas are filled with classic tropes like epic ballads of wars, weddings, and abandoned children. Donizetti's "The Daughter of The Regiment" is all of those things, but you will be laughing the whole time!
This delightful opera turns everything you thought you knew about the art form on its head and adds humor and sparkling vocals. Marie is a young woman who was raised by a bunch of rough-and-tumble soldiers. She lives a carefree life until she falls in love with a man on the other side of enemy lines. Hilarity ensues when her protective fathers realize that they perhaps lack the feminine touch to help her out; her sweetheart Tonio helps connect her to her roots; and Marie learns to appreciate her own uniqueness!
It's a cheerful, happy work that the whole family can enjoy, but don't take it from me—here's what two people in the company have to say about it: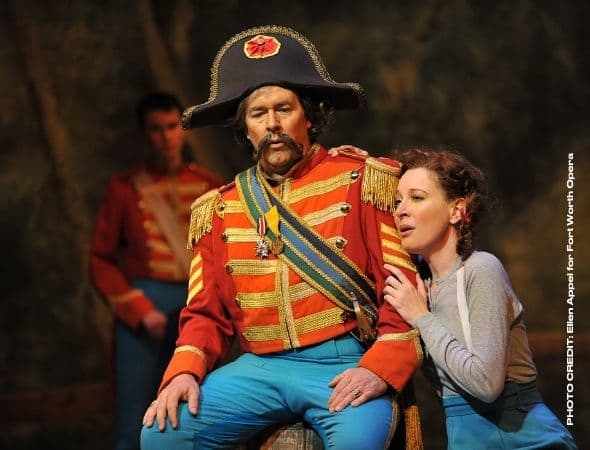 Dr. Michaella Calzaretta, Utah Opera Chorus Master:
This is a delightful comedy, with entertainment for the whole family! We love to see a young woman taking charge of her own destiny. Plus, the vocal pyrotechnics throughout are not to be missed! Witness what happens when Marie is forced to choose between a dreaded arranged marriage and high society, and her true love in the French regiment.
(Hint: This is a comedy, so we can bet there's a happy ending for everyone.)
Dr. Carol Anderson, Utah Opera Principal Coach:
Amazingly enough, 2023 will mark the first time The Daughter of the Regiment has appeared on the Utah Opera stage. That alone is a good reason to come see it—and our world-class artisans are going to build brand-new costumes just for this presentation. It's just a fun show—charming and hilarious, and it's an ideal antidote for the gloomy inversion month of January. The arias for soprano Marie and tenor Tonio are notorious for their coloratura difficulties. Luckily, we've got Madison Leonard and Jack Swanson in those roles, who are masters of the Bel Canto style. Who doesn't love a rags-to-riches story peppered with some amazing vocal fireworks?
Enjoy this upbeat comedy and more when you subscribe to the 2022-23 Opera Season!
Tags