Paul Dorgan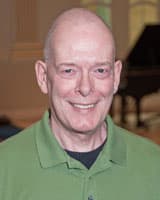 A native of Ireland, Paul Dorgan studied at the Dublin College of Music, and spent two student summers at the Mozarteum in Salzburg. He continued his piano studies at Ohio State University, which conferred on him a Master of Music and a Doctor of Musical Arts. Dr. Dorgan has performed as both a soloist and accompanist on tour throughout Ireland, and has accompanied singers in London, Paris, Canada, Italy, Switzerland, as well as throughout the United States. In Salt lake City, where he now resides, Dorgan has frequently performed on the Temple Square Recital Series, with the NOVA Chamber Music Series, and on the Universtiy of Utah's Sundays@7 series as chamber musician and accompanist.
Dr. Dorgan has worked with Cincinnati Opera, L'Opéra du Montréal, Opera Columbus, Utah Opera, Opera Memphis, and Tampa Opera. He has published articles on operatic subjects, and many American opera companies use his supertitle translations. He has adjudicated for the Metropolitan Opera Auditions and for NATS.
Currently Paul Dorgan is an Adjunct Professor of Music at the University of Utah.