04 Apr 2022
The Pirates of Penzance Online Course by Dr. Glen W. Hicks

Part 3. From Operetta to Musical Theater
While scholars have not always given serious attention to Gilbert and Sullivan, theater historian and professor Andrew Vorder Bruegge argues that the duo played a much more significant role in the development of musical theater than previously thought. Over the course of their partnership, they developed a formula known as the Savoy system or method (after the Savoy theater in London) that would become standard practice among some of the most successful artistic teams writing musical theater.
Although their influence may not have been immediate, Bruegge argues that by the middle of the twentieth century, American producers, composers, and librettists were capitalizing on the formula developed by Gilbert and Sullivan.[1] This formula includes the following components:
A long-term, symbiotic collaboration between librettist and composer who crafted the book first and wrote music to complement it;
A theatrical product that integrated story, music, character, and lyrics into a cohesive whole;
The crafting of a product for middlebrow appeal;
Marketing practices now identified as "retail theater";
Delegating specialized artistic tasks to an extensive, professional, artistic staff under firm directorial leadership.[2]
A closer examination of a few of these elements will help to illustrate how productions like The Pirates of Penzance have helped develop the current state of musical theater in the United States and elsewhere.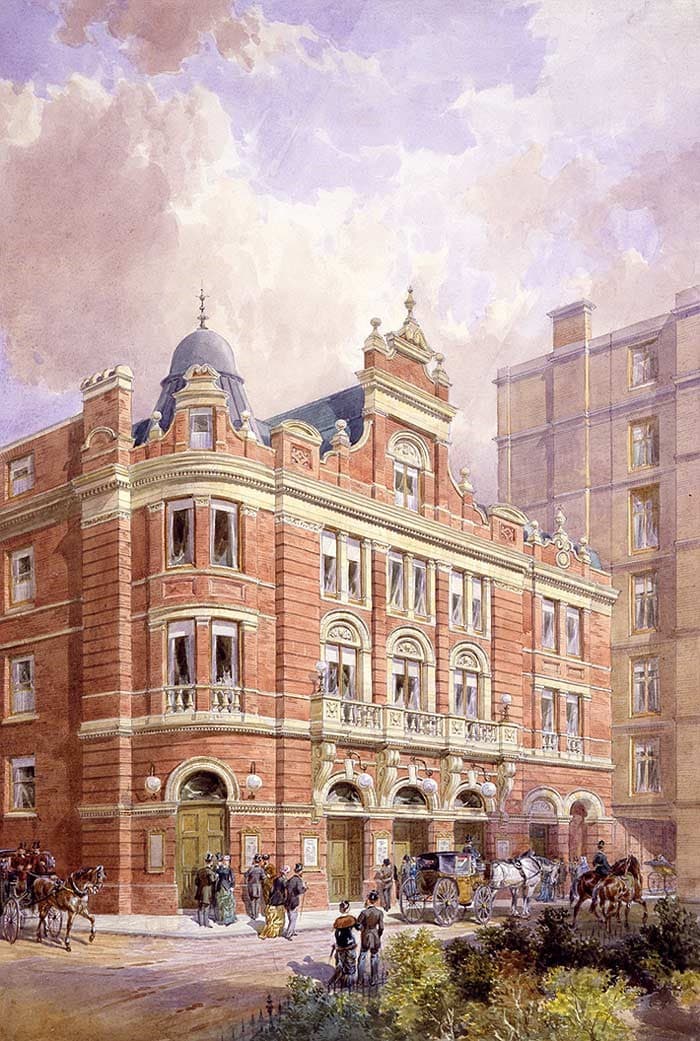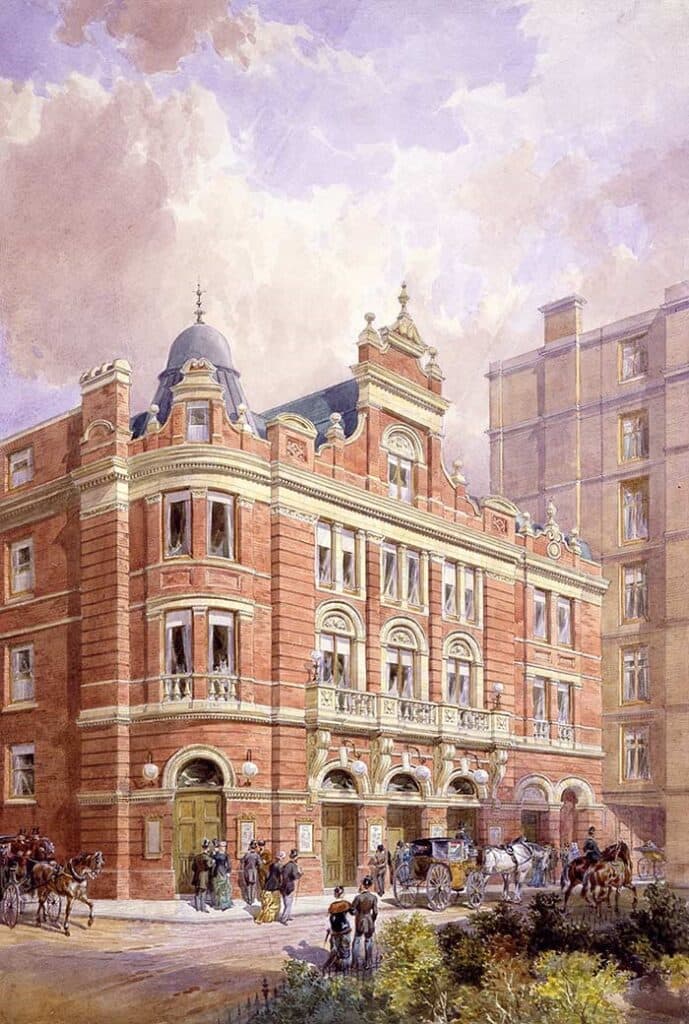 Long-Term Collaboration
The English composer Frederic Clay (1838-1889) is responsible for first introducing Gilbert and Sullivan. Gilbert had written the libretto for Clay's comic operetta Ages Ago (1869), so he was familiar with his style of writing stories and characters for the theater. Clay was a friend of Sullivan and introduced Sullivan to Gilbert in 1870. However, it was not until 1871 when the theater producer John Hollingshead (1827-1904) brought the two men together to create an operetta in time for the Christmas season. The resulting collaboration was Thespis, or The Gods Grown Old (1871), a critical and popular success. Over the next twenty-five years, Gilbert and Sullivan collaborated on thirteen more comic operas.
Bruegge notes that "the most number of successes among all the musical theater success in the twentieth century" resulted from librettist-composer duos that crafted solid and compelling stories before writing a note of music and maintained long-lasting periods of creativity.[3] After Gilbert and Sullivan, perhaps the most famous duo to use this model were Rodgers and Hammerstein.
Between the 1940s and 1950s, Richard Rodgers (1902-1979) and Oscar Hammerstein II (1895-1960) wrote eleven musicals together over sixteen years and ushered in what has been called the "golden age of musical theater." Several of their most significant success, such as Oklahoma! (1943), Carousel (1945), South Pacific (1949), and The Sound of Music (1959) have remained part of the standard repertory for theaters across the globe. While Rodgers and Hammerstein may be the only ones to match Gilbert and Sullivan in their percentage of successes, several other notable artistic teams similarly benefited from long-term working relationships: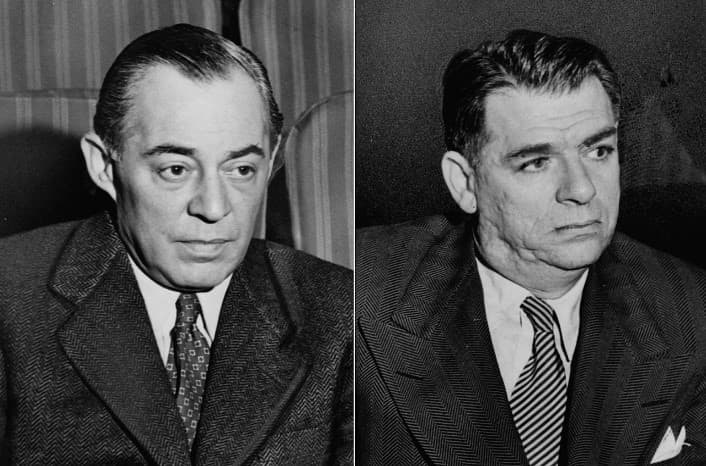 George (1898-1937) and Ira (1896-1983) Gershwin: 13 years active; 12 stage musicals
Lady Be Good (1924)
Funny Face (1927)
Strike Up the Band (1927)
Girl Crazy (1930)
Porgy and Bess (1935)
Richard Rodgers and Lorenz Hart (1895-1943): 24 years active; 28 stage musicals
The Girl Friend (1926)
A Connecticut Yankee (1927)
Present Arms (1928)
Babes in Arms (1937)
Alan Jay Lerner (1918-1986) and Frederick Loewe (1901-1988): 20 years active; 8 stage musicals
Brigadoon (1947)
Paint Your Wagon (1951)
My Fair Lady (1956)
Camelot (1960)
These composers, lyricists, and librettists "learned to build on each other's strengths" throughout their time together, and like Gilbert and Sullivan, they experienced critical and popular success.
A Cohesive Whole
From as early as the sixteenth century, the success of many operas relied on the involvement of well-known singers to carry the show, eventually giving rise to the diva (literally, goddess). These operatic stars attracted large audiences with their virtuosity, and in turn, these audiences brought with them money. As a result, a diva's ability to attract audiences directly affected the amount of power they could wield over producers, composers, and librettists. It was not uncommon for these singers to exploit this power by inserting themselves into the creative process, sometimes at the expense of the opera's coherency. If there was a particular aria or song that the singer liked, even if it was completely unrelated to the plot, they could choose to include it as part of the production. This power of the performer over production continued well into the nineteenth century in opera and even musical theater; however, the rise of operetta culture began to make star performers irrelevant.[4]
While some scholars attribute Rodgers and Hammerstein with transforming musical theater from a "star medium to a writer's medium," Gilbert and Sullivan were already making the transition decades earlier.[5] As early reviews show, Gilbert's witty and satirical texts paired with Sullivans's music won over audiences, not the performers themselves. Consider the following excerpts from a review of The Pirates of Penzance's New York premiere,
The music is fresh, bright, elegant and merry, and much of it belongs to a higher order of art than the most popular of the tunes of "Pinafore." There are little gems of melody; and there are duos and concerted numbers of the most delicate device and the most careful construction of which Mr. Sullivan has a good right to be proud. […] Add to the sparkling text, the excellent music, the droll situations and an unusual abundance of laughable "business," the further charm of a series of stage-pictures in which beautiful scenery and the glow of light and color are deftly used to heighten the effect of very pretty groups, and we have a catalogue of attractions to which the public cannot remain insensible.

[…]

Mr. [Hugh] Talbot would perhaps have done better things with Frederic if he had taken the trouble to learn his part. He has a version of the text considerably different from Mr. Gilbert's, and such as it is, he stumbles over it in a most disquieting way. We shall suspend criticism upon his performance until he knows his lines.[6]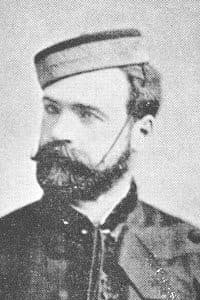 Despite considerable inadequacies from one of the principal players, Sullivan's text and Gilbert's music were enough to compensate for the less than stellar performances. Subsequent tours and revivals of Gilbert and Sullivan's operettas attest that it was not the performers responsible for the show's success but the cohesiveness of the libretto and music.
Andrew Bruegge notes that by the mid-twentieth century, creative teams were engaged in doing the same work Gilbert and Sullivan did several decades earlier, essentially reinventing the wheel by consciously creating "integrated shows that transcended the need for specific star performers to give them life on stage."[7] This work, which Bruegge calls "the most historically significant artistic legacy that Gilbert and Sullivan might have offered to the American musical theatre," has become standard practice among current composers, librettists, and lyricists.[8]
"Middlebrow Appeal"
Another element of the Savoy system developed by Gilbert and Sullivan is the unabashed and deliberate appeal to middle-class audiences. Returning to the opening night of Pirates, we can get a sense of what this "middlebrow" appeal meant to those in attendance. One reviewer noted the following:
It may be that the author of the book and the composer of the music were alike influenced by a desire to do nothing that their admirers had not been accustomed to in their former works. It is certain that there is very little, if anything, in the music that Mr. Sullivan has not said before. That it is pleasing, because tuneful and melodious, will be accepted as conclusive. There is better evidence of tune-making than the desire to exhibit musical science or original invention. […] The melodies of the songs and pieces, in the first act especially, fall familiarly upon the ear.[9]
The reviewer points out that Gilbert and Sullivan were desirous to "do nothing that their admirers had not been accustomed to in their former works," which tells us that they were conscious of their previous success, particularly H.M.S. Pinafore and knew what their audiences wanted – memorable tunes, clever dialogue, and humor. The American author, theater director, and critic John Bush Jones asserted that "Gilbert and Sullivan showed America that it was possible to combine three elements successfully ― integrated script, score, and production elements; soft-pedaled social satire; and crowd-pleasing entertainment."[10] At the time Gilbert and Sullivan were writing their operettas, the characteristics of satire along with integrated story elements were generally associated with opera and other entertainments of the upper classes, while elements of "bourgeois morality and rousing song-and-dance" were considered more closely related to the burlesques, reviews, and minstrelsy shows common among the lower classes.[11] Operetta, and later, twentieth-century musical theater, combined these elements, resulting in broad middle-class appeal. This appeal continues to the present time, evidenced by cultural phenomena like Hamilton (2015).
Looking back on the various operettas of Gilbert and Sullivan, we can see a clear formula used by the duo that contributed to their success. "If any of us wanted to mount a successful musical on Broadway tomorrow," suggests Andrew Bruegge, "we'd have the statistics on our side if we used this Savoy system."[12] Although statistics do not equal a secret for success, the following steps will start anyone who wants to write an award-winning musical off on the right foot:
Partner up with a team of artists to create an integrated show.
Develop the book first and create music and lyrics to suit.
Appeal to middle-class audiences with harmless social satire.
Employ the best talent and a full staff of professionals to create a highly polished product.
Manage that talent with a solid administrative vision.
Implement retail theater practices.
Good luck!
---
[1] Andrew Vorder Bruegge, "A Dull Enigma: Historians' Analysis of Gilbert and Sullivan's Impact on the Development of the American Musical Theater," from the SelectedWorks of Andrew Vorder Bruegge, Ph.D. (Winthrop University: 2021), http://works.bepress.com/andrew_vorder_bruegge/18/.
[2] Bruegge, 1-2.
[3] Emphasis is original. Bruegge, 9. See also Bernard Rosenberg and Ernest Harburg, The Broadway Musical: Collaboration in Commerce and Art (New York University Press: NY, 1993), 12.
[4] Bruegge, 9.
[5] Bruegge, 9.
[6] Review, The New York Tribune, 1 January 1880.
[7] Bruegge, 9.
[8] Bruegge, 12.
[9] Review: "Opera Comique," The Morning Post, 5 April 1880.
[10] Bruegge, 10. See also John Bush Jones, Our Musicals, Ourselves: A Social History of the American Musical Theatre (Brandeis University Press: NH, 2003), 11-10.
[11] Bruegge, 10.
[12] Bruegge, 13.
Tags