25 Sep 2013
A Wilde Source for Salome
Salome is not mentioned in the New Testament: at least, not by name. Only two of the evangelists, Mark and Matthew, mention the execution of John the Baptist: Mark writes that "Herodias' daughter came in and danced," while Matthew just says "the daughter of Herodias" danced. It is left to the Roman historian Flavius Josephus, in his Jewish Antiquities, to name her and supply a little bit of family background. She was the child of Herodias's first marriage to the elder brother of the present Tetrarch.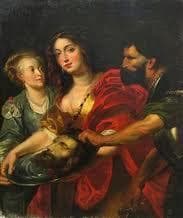 Nineteenth-century artists, both painters and writers, were fascinated by this girl who demanded the head of John the Baptist as reward for dancing before Herod and his guests. In 1877 Walter Pater, a professor at Oxford, gave Oscar Wilde a copy of the just-published Three Stories by Gustave Flaubert (the author of Madame Bovary). One of the stories was Hérodias. In 1884 Joris-Karl Huysman's novel À rebours appeared; Wilde read it on his honeymoon and was astonished by it. In one chapter of the book is a description and analysis of two Salome paintings by Gustave Moreau (1826-1898); Huysman's hero notes that the dancing Salome is "the symbolic incarnation of undying lust." The great German poet Heinrich Heine brings a ghostly Salome into his 1847 novel Atta Troll; she kisses John's head. The American writer J.C. Heywood (he died in 1900) incorporates this detail into his dramatic poem Salome, which Wilde reviewed when it was published in England in 1888. An influence on the style of Wilde's writing in the play was the Belgian Maurice Maeterlinck, one of the most important playwrights of Symbolist Movement. (We Opera Folk know him only because his play Pelléas et Mélisande was the basis of Debussy's only completed opera.)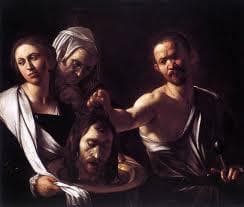 While in Paris in early 1891, Wilde met the poet Stéphane Mallarmé; each admired the other and exchanged books: Mallarmé's gift was his French translation of Poe's The Raven; Wilde's was Dorian Gray. In October Wilde returned to Paris, determined to write about Salome. He was aware that the French poet had begun, at the age of twenty-two, a poem Hérodiade (it was to remain unfinished at his death). Footnote: There seems to be some confusion over the name of Herod's step-daughter/niece; in some versions of the story she has the same name as her mother: Herodias; in others she has her own name. I think it's safe to say that Wilde's play clarified the identities of mother and daughter!

Wilde talked with everyone (though maybe not with Mallarmé!) about Salome. He held forth on her various portraits by Rubens, Albrecht Dürer and Leonardo; even the latest one, from 1870, by Henri Regnault (which is now in New York's Metropolitan Museum of Art). He seemed to know them all. But only Moreau captured for him the essence of the woman.
His obsession with Salome seemed total. Every woman he saw on the streets was a possible model. Jewelry stores were explored for the right pieces which she would wear. The next step was for her to be completely naked, except for strands of necklaces. The great Sarah Bernhardt would dance naked. At times he would do a U-turn and Salome would be chaste and full-clothed, divinely inspired to dance in order to effect the death of John, whom she considered the enemy of Jehovah.
He began to write a story which morphed into a poem before he realized it had to be a play. At first he didn't think of staging it, but the more he imagined Bernhardt speaking his lines the more convinced he became that it had to be. And it may have been his fantasy of a Bernhardt Salome that persuaded him to write the play in French.
Much of the play was written in Paris: Wilde claimed he wrote the whole thing in one night. He returned to London to spend Christmas of 1891 with his wife and sons; after a few days he left for Torquay (a resort town on the south coast of England) to touch up Lady Windermere's Fan (which was about to go into rehearsal) and to finish/revise Salome.
By coincidence, Sarah Bernhardt had brought her company to London in 1892. She must have been a little piqued that audiences were flocking to see the first effort by a young(ish) dramatist (London knew nothing of Vera): audiences that should have been, but weren't, flocking to her productions. She and Wilde had first met when she arrived in England in 1879 for a series of performances; they met again in 1883, this time in Paris; the following year he raved about her performance as Macbeth (yes, she played Mr. M.!). A very successful playwright was far more interesting to La Bernhardt than a charmingly witty social acquaintance could ever be. She suggested he write a play for her sometime; "I have already done so." Having read the script, she decided she would play the role of Salome, despite Wilde's telling her that the leading part was the moon.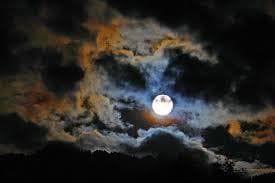 Discussions about the design of the production now began and they make for fascinating reading – see Richard Ellman's biography of Wilde. Ever thrifty, Sarah decided to borrow a set from the great actor-manager Henry Irving as well as a Cleopatra costume. Rehearsals began in June. Two weeks later the Licenser of Plays forbade the production.
Even in Shakespeare's time, the Master of the Queen's Revels had the authority to close public performances deemed offensive or dangerous for political, religious or moral reasons. In 1737 the Theatres Act established that the Lord Chamberlain's Office would determine which new scripts would be licensed for public performance, and the position of Licenser of Plays was created. In 1843 The Theatrical Regulation Act revised the earlier one to cover the new forms of theatrical productions that had developed in the intervening years. Things loosened up in the first decade of the twentieth-century, but the law's essence remained the same until it was repealed in 1968. (The musical "Hair" opened in London the day after its repeal!)
I cannot discover if the ban on portraying Biblical characters on the public stage was part of The Theatrical Regulation Act, or if that ban was part of another law. The Licenser, E.F.S. Pigott, invoked the Biblical Ban in prohibiting Salome. Incidentally that ban applied to Opera productions as well. Verdi's Nabucco was given in London in 1846 as Nino! Covent Garden's planned production of Saint-Saëns' Samson et Dalila in 1893 had to be switched to a concert performance at the last minute. The Biblical Ban was finally lifted in 1909.
Stung by the play's prohibition and even more, perhaps, by the merriment among his enemies, on both sides of the Atlantic, caused by his threat to become a French citizen, Wilde determined that the play would be published. Stewart Merrill, an American poet living in Paris, suggested some corrections to the text and referred him to Adolph Retté. Not thrilled with Retté, Wilde consulted Pierre Louÿs, who was to achieve notoriety with the publication of Songs of Bilitis which he claimed were translations of ancient Greek texts by the poet "Bilitis," whose "biography" he included with the poems; Wilde agreed only to Louÿs's grammatical corrections. Finally Marcel Schwob suggested some minor changes which Wilde adopted. The publication was officially a joint venture between Parisian and London houses; the printing was done in Paris and the London company bought their copies from Wilde. "That tragic daughter of passion," in Wilde's words, appeared in February 1893. Mallarmé wrote a letter full of praise; Maeterlinck called it "mysterious, strange and admirable…this dream whose power I cannot explain."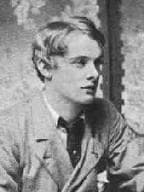 Now the play had to have an English edition, which meant finding someone to translate it. First, though, he found Aubrey Beardsley, a twenty-one-year-old artist who had studied in Paris with Toulouse-Lautrec, to illustrate the book. Wilde's decision to commission the translation from his lover, Lord Alfred Douglas, was the second worst decision he ever made; his very worst decision was to let Douglas into his life at all! At criticism that parts of the translation showed his poor grasp of French, Douglas flew into a rage and blamed Wilde's poor grasp of French. The compromise was that Wilde's name would appear on the title page as author and that the translation would be dedicated to Douglas.
In February 1896, the play was given for the first time in Paris and received an enthusiastic reception. In 1901 the play was staged in Germany. The next year Max Reinhardt staged it, using a translation by Hedwig Lachmann; Richard Strauss saw the production and used the same translation for his operatic version. In 1905 a London "theatre club" (and thus not subject to the Biblical Ban) gave the first performance in England. There was another "private" production the following year. One source I consulted said the first public performance in England was at the Royal Court Theatre in April 1918, while another gave a different theatre and the date as October 1931.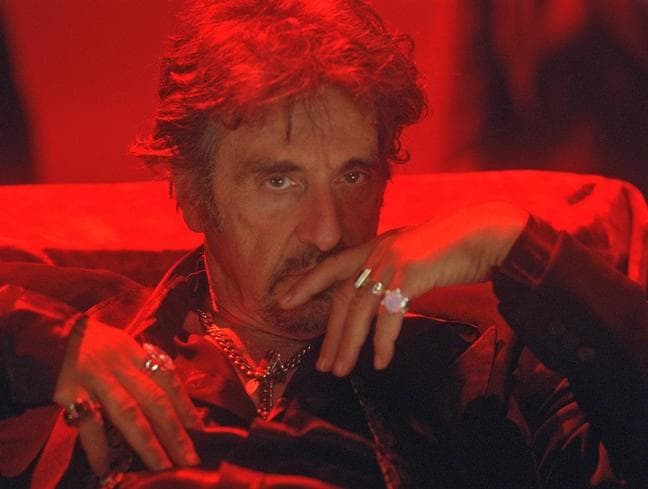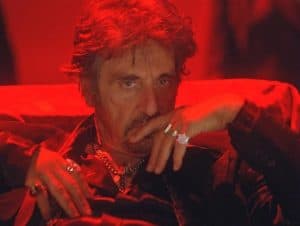 What of the play itself? It's rarely performed, at least in English. In 1992 New York's Circle in the Square produced it with Al Pacino as Herod. He repeated the role in 2003, again in 2006 and in 2011, starred in a documentary about the play. The most recent production in England seems to have been a poorly-received one in 2010. Why so?
Primarily it's the language. Whether Wilde or Douglas translated the original French, the English is, many times, extravagantly baroque. Salome's first speech to Jokanaan: "I am amorous of thy body! Thy body is white like the lilies of a field that the mower hath never mowed. Thy body is white like the snows…Thy hair is like…the clusters of black grapes that hang from the vine trees of Edom." And, in the opening scene, when it isn't extreme, it's almost childlike, with its incantatory repetitions. "The Tetrarch has a sombre look." "Yes, he has a sombre look." "He is looking at something." "He is looking at someone." It's difficult for actors today to speak such over-the-top language without audiences sniggering at the flamboyance of it all.
But read it alone. First silently. Savor all the sounds you make and linger over them. Then, when you're sure no-one can hear you – not even your dearest beloved – let fly with "But thou, thou wert beautiful! Thy body was a column of ivory set on a silver socket. It was a garden full of doves and of silver lilies. It was a tower of silver decked with shields of ivory."
Book Club Discussion Point #1: the contrasts in the play. Naraboth's ecstatic descriptions of Salome against the more pragmatic statements of his companion. Salome's extravagances against Jokanaan's imperturbable pronouncements. Herod's alcoholic hallucinations against the supremely down-to-earth pronouncements of his wife. The wild argument of the Jews against the calm sureness of the two Nazarenes.
Book Club Discussion Point #2: symbols. The moon is one. For the Page, the moon is a dead woman. For Salome the moon is a virgin, "cold and chaste." For Herod it's a "mad woman…seeking everywhere for lovers. She is naked, too…She reels through the clouds like a drunken woman."
Book Club Discussion Point #3: the color white. Salome has "white doves for feet." She is pale, "a white rose in a mirror of silver." "Her white hands…are like white butterflies." And so on. Which parallels the virginity of Salome, but will contrast with the red of Narraboth's blood, and of the decapitated head in the final scene.
In the eighteenth and early-nineteenth centuries, poets wrote what were called "closet" dramas: plays intended to be read, but not produced on stage. Oscar Wilde's Salome seems to me to be part of that tradition, if only his infatuation with Sarah Bernhardt had not interfered! The script is delicious to read, but well-nigh impossible to produce successfully on stage.
Enter Richard Strauss!
FURTHER READING. In my research I came across a web-page, by Travis Currit, devoted to Wilde's French play. I can't find any date, so have no idea when he up-loaded the page. Interesting for us Utahns, the web-page originated at the University of Utah! The address will take you to the section about Mallarmé (I couldn't access the page any other way), but you can easily navigate through the rest of the information.
Tags