29 Sep 2016
The Writing and Rehearsing of Carmen
The triple-bill of one-act operas (by Bizet, Saint-Saëns and the now unknown Paladilhe) produced at the Opéra Comique in May 1872, was not a great success, lasting only for eleven performances. Nevertheless, something about Bizet's Djamileh convinced Camille du Locle and Adolphe de Leuven, the co-directors of the company, to commission a three-act opera from its composer, Georges Bizet.  No production date was specified, nor was any libretto suggested.  The critical response to Bizet's contribution was, at worst, tamely favorable.  His composer-colleagues, especially those younger than he, were more enthusiastic:  Saint-Saëns, one of his fellow-composers that night, wrote a sonnet in his praise, while the 30-year-old Jules Massenet (future composer of Manon, Werther, and Cendrillon, the best known of his twenty-seven, or so, operas) wrote him an enthusiastic letter
Bizet wrote of the commission next month to Paul Lacombe, who, living in Carcassonne, a city in the south-eastern coastal area of France, was one of his "correspondence-course" students: "De Leuven and du Locle have commissioned an opera in 3 acts from me.  Meilhac and Halévy will be my librettists. They'll write something gai, which I'll treat in as compact a manner as I can." Even though no subject had been determined, Adolph de Leuven, one of the co-directors of the Opéra Comique, suggested some possible scenarios.  Before his administrative career, de Leuven had written librettos for Adolphe Adam (1803-1856), whose very traditional works had been great successes at the theatre he now found himself in charge of.   We know Adam best today for that hardy Christmas perennial "O Holy Night," though, in addition to his many operas, he composed the music for the ballet Giselle.
It's not clear when Bizet decided on Prosper Mérimée's novella Carmen as the basis of this new commission; his librettists, Meilhac and Halévy, professed enthusiasm for the subject, as did Camille du Locle, one of the Opéra-Comique's co-directors.  It was de Leuven who objected: Carmen is killed by her lover…all those gypsies, thieves and cigarette-girls…at a "family theatre" where five or six boxes are taken every night for the purpose of arranging marriages…the audience will be frightened. Impossible!   Halévy assured him that Mérimée's original would be toned down; a pure young girl would be introduced as a foil to Carmen;  the gypsies would be comic ones;  and the death scene would be "sneaked in" at the end of an act filled with life, sunshine, triumphant processions, ballets and fanfares.    This mollified de Leuven, though he pleaded at the end of the interview not to let her die: "Death on the stage of the Opéra-Comique!  Such a thing has never been seen.  Don't make her die. I beg of you."   Finding both the prospect of Carmen itself, and the eventual casting of Célestine Galli-Marié in the title role, distasteful, he resigned in 1874.
Tone Mérimée's original down the librettists certainly did. When we meet José in the novella he is "the most notorious bandit in Andalusia" and we learn very little of his pre-Carmen life, though he does tell the narrator of his murderous quarrel with an acquaintance.  In the course of the novella, José commits three (four, if we include the earlier one) murders, including that of Carmen;  in the opera there is only one, though in the Act 1 dialogue with Zuniga (lifted almost word-for-word from the novella) he hints at that earlier one.  In the opera, thanks to the introduction of the Micaela character, we see José, the dutiful soldier and son, and witness the destruction of this honorable man after he meets and becomes obsessed with Carmen. The novella-Carmen's thievery and perpetual lying are gone in the opera, though in the dialogue between Carmen and José before the Seguidilla, she does admit she had lied when she told him she was a Basque like him.
Micaela continues the Opéra-Comique's tradition of the innocent heroine.   The librettists invented her, not just as a sop to de Leuven and the theatre's usual audience, nor as a stark contrast to Carmen, but as a kind of gauge by which we can measure José's descent from the upright man in Act 1 to the jealous deserter in Act 3 who reluctantly agrees to go home to his dying mother, while threatening Carmen with their eventual meeting again.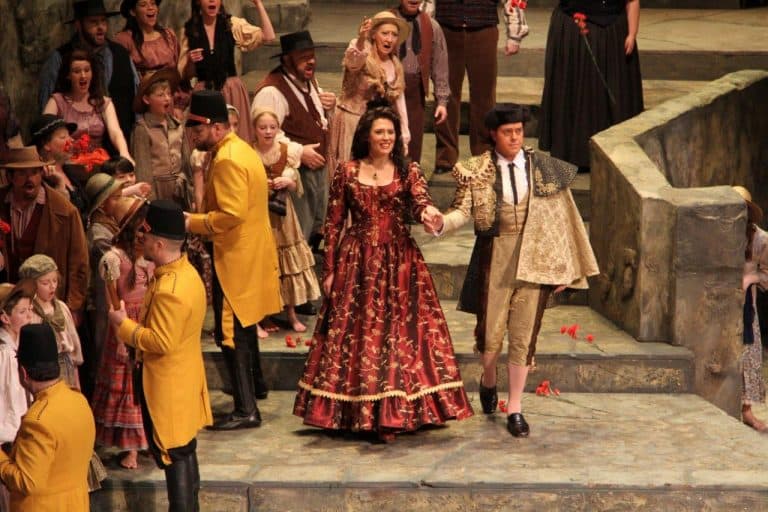 Escamillo, too, is a character who would have been comforting to that opening-night audience: a confidant man singing hummable tunes.  In Mérimée he is Lucas, whom Carmen sees either as a robbery prospect, since he earns a lot at each bull-fight, or a useful recruit to their gang "…since he's a good horseman and a brave young fellow."  He disappears after two paragraphs.  The librettists, though, saw in this minor character a contrast to José, presenting him as a swaggering Alpha-male:   Bizet directs that the refrain of his entrance aria be sung avec fatuité, which has been translated as "with almost ludicrous self-complacency."   The audience loved it, though the composer, as he wrote it, dismissed it:  "They want l'ordure?  I'll give it to them."  That noun, saving your presences (as we say in Ireland when we want to dilute a vulgarism), can be translated as a four-letter word beginning with "s," though English did adopt the original word.  Immediately after his aria, he notices Carmen and flirts with her, trying to set up a date.  In Act 1, remember it was Carmen who noticed José and flirted with him.  In Act 3 Escamillo becomes, like Micaela, a marker for us to note how low José has fallen. In the original score's fight between the two he has, at one point, the upper hand over José, but releases him; in their second bout, he trips, falls, and would have been killed, had not the smugglers, alerted by José's rifle shot, returned in time to stop the murder.  Ever calm and courteous, Escamillo, in a very suave vocal phrase, thanks Carmen for saving his life, and, as he exits, invites them to the bull-fight in Seville; orchestral shudders tell us that José is none too happy, neither with his calmness, nor with his invitation.  The last voice we hear in that act is Escamillo's, as he wends his way down the mountain.  In the final act he has a brief duet with his latest love, Carmen.
Lilas Pastia, in Mérimée, was an old gypsy whose tavern doubled as a fish restaurant, frequented by people who knew that Carmen regularly hung out there.   Remondado and Dancaïro were merely names of guys in Carmen's gang; the libretto transforms them into real people, who, in true Opéra-Comique fashion, had to be paired off with female partners:  hence Frasquita and Mercédès.
Since Bizet and his librettists lived in Paris and could meet with each other whenever necessary, there is no written record of their collaboration. What letters there are concern mostly the casting of the role of Carmen, and, later, the problems Bizet experienced during rehearsals.    From the libretto published in Théâtre de Meilhac et Halévy, Vol. 7, we can note some of the changes Bizet made to the lyrics in the course of composing the score.
"All must have been decided by March or April 1873," writes Hugh Macdonald in his study of the composer;  by "all" he means that the subject had been agreed upon (despite de Leuven's qualms and pleas), and that the librettists were hard at work:  a letter from Daddy Halévy, dated May 7, writes that his son and Meilhac are "finishing" the text.  To his student, Paul Lacombe, Bizet wrote in early June that he had finished the first act and was pleased with it. But Macdonald's "all" does not imply that a date had been set for the opening night, let alone when rehearsals might start.
This is important to keep in mind because in the summer of 1873 Bizet had two librettos requiring his attention: Carmen, with the assurance of a future production at the Opéra-Comique; and Don Rodrigue, proposed for the much more prestigious Opéra at the instigation of its most bankable baritone star, Jean-Baptiste Faure.  Not surprisingly, Don Rodrigue took precedence and by the end of October, Bizet sang, "in the feeblest voice in the world," the entire score for its librettists and Faure;  the baritone promised to recommend the score to the director of the theatre, and the authors left feeling sure that their opera would be produced in the (somewhat) near future.  The fire which destroyed the theatre on the night of October 28/29, also destroyed those hopes.  For though the company moved to a temporary theatre while awaiting its move to the new Palais Garnier in 1875, Mr. Lead Baritone seems not to have said anything to the Management about Don Rodrigue – perhaps not so surprising, since the leading role was assigned to a tenor, which left him with the secondary "King" role.
Another interruption for Bizet came in early October:  Jacques Offenbach, the wildly successful composer of such pieces as Orphée aux enfers and La belle Hélène, planned to open his latest theatre in November with a Joan of Arc play with incidental music – "almost as substantial as an opéra-comique" according to Macdonald – by the still-in-exile-in-London Charles Gounod, who insisted that Bizet supervise the rehearsals.
So when did Bizet find the time to compose Carmen?  A tantalizing report is left in Stuart Henry's Paris Days and Evenings, published in London in 1896. His daughter studied piano with the composer, at first at their house, but later at his: "Sometimes he would excuse himself during the lesson…and work over some strain that would be running in his head…He was full of the airs of Carmen at this time, so I heard most of them sooner than almost anyone…"  What's tantalizing about this report is that no year is mentioned: when did his daughter hear those "airs of Carmen"? 1873?
After various postponements of Carmen by the management, an opening night in early 1874 seemed possible.  Which meant that a singer for the title role had to be found.   Zulma Bouffar was rejected, probably because she had become so associated with leading roles in Jacques Offenbach's satirical operettas that no-one would accept her as a tragic heroine;  one newspaper announced that Meilhac nixed her "because it was out of the question for Zulma to be stabbed."
More seriously considered was Marie Roze, a singer more popular with London audiences than with Parisian ones, and more popular with the Parisian public than with Parisian theatre-managers.   On September 7 1873 she wrote to Bizet that "the role would not suit me, or, more accurately, … I would not be suited to it." Bizet had explained to her that her hoped-for "dramatic action that would modify the very scabrous side of this character" should not be expected.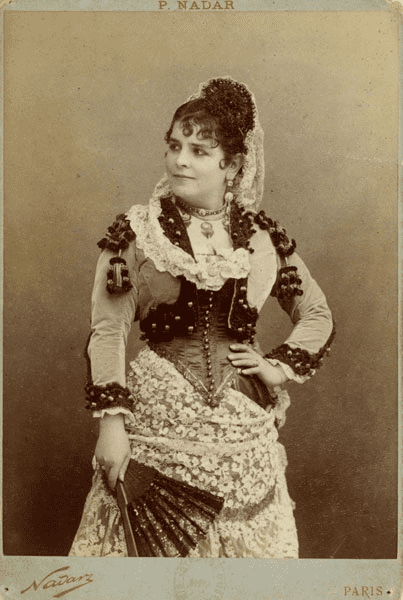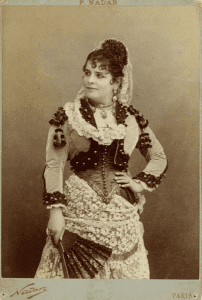 Du Locle immediately offered the role to Célestine Gallie-Marié.  She, in turn, wrote to her friend, the tenor Paul Lhérie, about the offer "to create Carmen.  What is it?"   She may not have known Mérimée's Carmen, but she wrote to Bizet, in October 1873, that she would "be very happy to interpret a work…particularly one signed by you, whose last two scores I know almost entirely by heart, both voice and accompaniment."  In 1862 Gallie-Marié had first appeared at the Opéra-Comique, where she won considerable success.    Two years later the composer Victor Massé suggested to Victorien Sardou (author of the play La Tosca) that he adapt the novella into a libretto – presumably he would write the music – specifically for Gallie-Marié:  "I figure that Mérimée's Carmen would be an original and remarkable creation for her".  How right he was! And how thankful we should be that this project went nowhere!
After playing through the score for Gallie-Marié in September 1873, Bizet decided that she would be perfect.  What followed were months of negotiation between singer and management before she finally signed a contract on December 18, 1873:  she would be available for four months starting in October, 1874, and would sing 12 times a month for a monthly fee;  if the new piece proved a success, she would stay on and be paid per performance.
Rehearsals had been scheduled to begin in August, but now had to be postponed until Gallie-Marié arrived in October.  In a letter to du Locle early in 1874, she asked him to tell Bizet to keep in mind, when composing the parts of her role not already done, the soprano role of Marguerite in Gounod's  Faust:  what he had written so far spent too much time in the lower – i.e. Mignon – area of her voice which she found "too commonplace and rather bores me." (She had created that role in Ambroise Thomas's 1866 Mignon to great success.)  Over two months that summer, Bizet orchestrated the entire score – 1200 pages of manuscript.  But he kept in touch with his leading lady:  apparently they read through some "pieces" – she singing them at sight – for in July she asked him to send them to her so she can work on them "and tell you if anything troubles me."  Some weeks later he offered to bring the whole role to where she was staying in Bordeaux, in south-western France, and received an interesting reply:  at the moment she was only concerned with "the principal pieces of my part which are not at all like an andante by Mozart, so that I can study them a little." As for the whole role, "I shall read [it] at sight on October 1, the day my contract starts."
According to Halévy's journal from September 1, 1874, "Carmen is in rehearsal…"  We must regret that in his old age he crossed out, even cut out with a scissors, chunks of his entries.    Did rehearsals really begin a month early? Winton Dean, in Oxford University Press's "The Master Musicians" series, says they began in October, but Hugh Macdonald, his successor in the same series, writes they were "under way by 1 September 1874."  Perhaps Halévy, and Macdonald, were referring to the start of the musical preparation of the chorus.
In composing his score, Bizet felt no compunction about altering his librettists' words: sometimes he changed them if he came up with a more singable version;  sometimes he ignored lines which did not fit his musical ideas; and sometimes he even added a word or two.    That should not surprise us since Verdi, for example, was very demanding of his librettists: "Here's what I think the characters should say; you put them into verse" wrote Verdi to Ghislanzoni during the composition of Aida; but since he didn't – or couldn't – come up a satisfactory metrical version, the final scene of the opera is mostly Verdi's text.  Puccini, too, regularly bugged his librettists for extra lines in a specific metre to accommodate his musical inspiration.
Forgive the wretchedly weak pun, but during this rehearsal process Bizet was busy.  Not only was he preparing the piano-vocal score (reducing his orchestral score into something playable by two hands on one piano), but he was also playing rehearsals (probably because only he could read his own orchestral manuscript); coaching the principal singers in their roles; and making the kinds of adjustments which occur almost daily in the rehearsal of any new work for the theatre (believe me…I've been the rehearsal pianist for a couple of first productions…I know!)  An example: hearing a strong baritone singing the relatively minor role of Moralès, Bizet felt he deserved more to sing in the opening scene, and wrote three versions of an aria for him, in which he observes and comments on an old man out walking with his much younger wife, who runs into her young lover; members of the company's ballet troupe presumably mimed the three characters.
Adding to Bizet's stress at this time was the fact that his leading lady was singing other roles at the theatre, so there were days when no rehearsals were possible; for most of October, for instance, Carmen was essentially on hold; Halévy noted that on October 25 there was a "reading of Carmen…Only the music was in rehearsal."  Things picked up in the second week of November when the company schedule recorded almost daily rehearsals for the rest of the year.  Bizet was there for nearly all of them.
Meilhac and Halévy, the librettists, were seldom present, and their absence must have put extra strain on the composer.  But the prolific pair had their own, non-Bizet, projects to attend to in the fall of 1874.   In late September, L'ingénue, opened;  in early November came La Veuve, a three-act comedy;  this was followed, later that same month, by another three-act comedy, La Boule;  while early December saw a revival of Les Brigandes, one of their Offenbach operettas.
Henri Meilhac was not, it seems, especially interested in music: his role in the partnership was to provide the dramatic shape of the piece and write the dialogue – the wittier, the better;  Ludovic Halévy was responsible for the lyrics.  Unmusical he may have been, but Meilhac, when he showed up at a rehearsal, was shocked by du Locle's attitude to the new piece.  Remember that, as co-director of the Opéra-Comique, Camille du Locle had not only commissioned the new opera from Bizet in 1872, but had supported the choice of subject over the objections of his co-director, Adolphe de Leuven.  On hearing Bizet's music, du Locle was not shy about dismissing it as "utterly incomprehensible."  His attitude only reinforced the objections of the orchestra and chorus, who claimed the music was unplayable and unsingable.
Even without knowledge of the regular repertoire at the Opéra-Comique, it's safe to say that Bizet's score required more from the orchestra than they had been accustomed to.  Think, for instance, of the refinement required of the strings in the orchestral introduction to the entrance of the Cigarette Ladies in Act 1.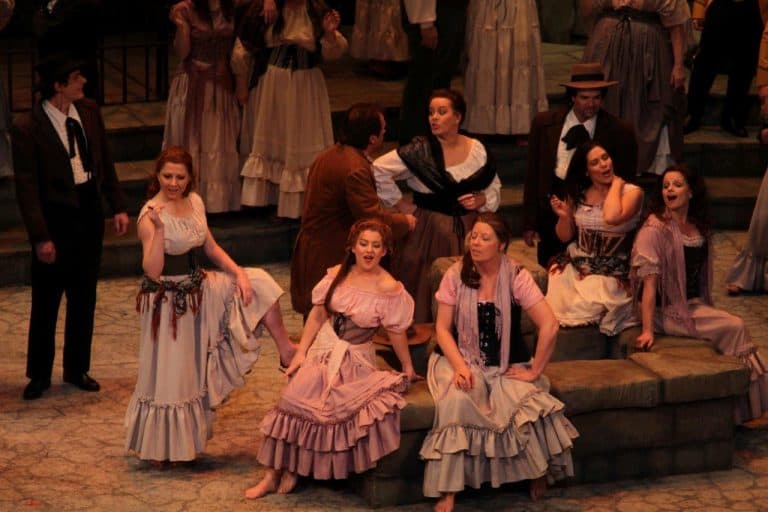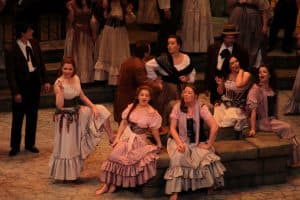 The Chorus, too, was a pretty traditional bunch, used to coming on stage in their voice-type groups, standing still, facing front and staring at the conductor, and singing fairly innocuous music.  But Bizet wanted the Cigarette Ladies to enter in twos and threes before singing their tricky "Smoking Chorus."    Harder still was the Fight chorus which demanded that they sing very complicated music at a very fast tempo, with the very real danger of the whole thing falling apart.  AND they were expected to move while singing!!  In their defense it should be said that, even today, it remains one of the most difficult of all choruses in opera.  After two months of rehearsal they declared both choruses impossible and threatened to strike.  In mid-February, Bizet asked for ten more voices to beef up the sound of the women;  du Locle, though he thought the extra voices unnecessary, gave in.
In January of 1875 daily rehearsals began, which the librettists were now free to attend.  At which point they got cold feet and tried to tone down the effect of their adaptation;  they particularly objected to what they considered the "vulgar and unrestrained" acting of Galli-Marié. But to no avail. Du Locle wanted the Act 2 duet between Carmen and José shortened and broken up into sections to allow for applause; Bizet refused.  Then he decided that the ending had to be changed and called in the director of the Comédie-Française (who hated the piece) to suggest how it might be done.  This time Bizet was joined in his refusal by Galli-Marié and Paul Lhérie (José) who said they would quit the production rather than accept any changes.
Bizet may have stubbornly refused to give in to du Locle's suggested changes, but he was quite amenable to making changes to accommodate his singers.  We saw earlier that he added an aria in Act 1 for the baritone singing Moralès.  He also altered some of Lhéri's music in his duets.  Ernest Guiraud (a close friend of the composer and the guy who would later provide the recitatives) claims that Galli-Marié insisted that her entrance aria be rewritten thirteen times, though the exact number may never be known!  She wanted an aria, preferably Spanish-folk-song-like, which would immediately establish her character as a gypsy, not herself as the prima donna of an opera.  She suggested something Spanish-folk-like;  eventually (and maybe in desperation), Bizet adapted a tune by a popular Spanish composer, Sebastián Iradier and jettisoned Halévy's text in favor of his own.  (In the first published piano-vocal score this borrowing was acknowledged, but that gradually disappeared with the various reprints.) He also, by the way, rewrote the text for Carmen's solo in the "Card Trio" in Act 3.
But, at four and a half hours (including three 30-minute intermissions), the evening was too long for Opéra-Comique audiences.  Cuts had to be made. The aria for Moralès in Act 1, added during rehearsals, survived for the first thirty performances, after which it was removed. The little canon that played under the dialogue between Moralès and José during the changing of the guard went, though it hardly saves any time, since it is perfectly timed to their conversation. The exit music of the guard after this dialogue was shortened as was the orchestral introduction to the Cigarette Chorus (which also lost a section for the male chorus towards the end).  The guards' interjections during the Fight Chorus was cut, together with some of the ladies' music, which must have pleased them somewhat.  In Act 2 the music surrounding Escamillo's entrance and exit was tightened up.  The unkindest cut of all was Carmen's mocking reply, accompanied by sneering violins, to one of José's impassioned statements in their duet, later in that act. The vicious fight between José and Escamillo in Act 3 was rendered less vicious by the removal of some eighty bars, which may have pleased the singers (it ain't easy to sing while fighting viciously!); and the ending of the act was made more compact. The ending of the last act was also shortened.
All of these cuts were made, or sanctioned, by Bizet, though not all of them made it into the first edition of the piano-vocal score, which appeared within days of the opening; they were removed, though, from the second edition.  They raise an interesting question.  Bizet, during rehearsals, fought so determinedly, and successfully, with the management to preserve the integrity of his musical drama.  Why, when it became a matter of shortening the performance time, did he not cut the three orchestral interludes (French term is entr'acte) played before the "real" orchestral introductions to Acts 2, 3, and 4 began?     They add nothing to the drama, and cutting them would have preserved some of the integrity Bizet fought for.  But they were never threatened with elimination – maybe (just a thought) because, since the orchestra had objected to the score as "unplayable," it was politic for Bizet to flatter them with these non-vocal pieces which featured individual players as soloists.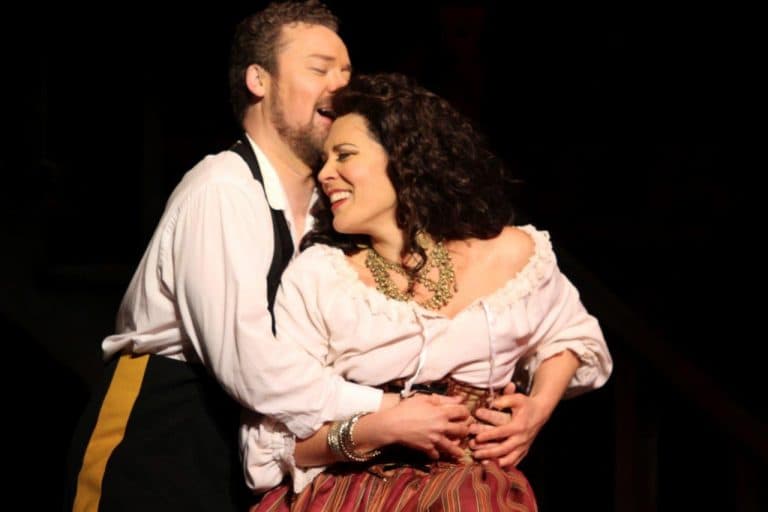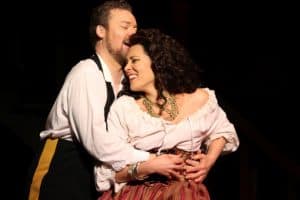 Music under dialogue is always a problem: the ear is always divided between the two, even when the music we hear is hinting, as it so often does in Rodgers and Hammerstein's works, at a song which will emerge from that dialogue.  Clever though Bizet's canon is under the Moralès/José dialogue, its very cleverness is distracting in performance to a musician, while its presence is distracting to someone listening to the dialogue:  so cut it!  Abbreviating music composed to cover entrances and exits is almost a given, since a composer can never be sure how long it will take to get people on and off the stage.  I confess to missing the male chorus at the end of the Cigarette Chorus, because it's so interesting musically. Cutting the soldiers' contribution to the "Fight Chorus" might have saved a minute or two, but what we now see on-stage is a virtual riot from the women with the soldiers vocally standing by: why, in trying to restrain these very unruly women, would they not sing?  In the duet between Carmen and José in Act 2, Bizet's cutting of one of his most brilliant musical illustrations of Carmen is beyond me.  Off-stage trumpets are heard, calling José back to barracks.  Passionately he tells her of his agony at having to leave her, because no woman has ever had such an effect on him.  Originally Carmen mockingly repeated his words, in a new tonality, while sneering strings echoed the ends of her phrases.  Brilliant!
Was Bizet, perhaps, starting to doubt the musical-dramatical integrity for which he so passionately fought, and so agreed to these cuts?  And was it this realization which contributed to his post-performance depression, noted by his friends?  We'll never know.  Nor shall we ever know how Bizet wanted his opera – a supreme masterpiece of musical-drama – to be performed.  Utah Opera audiences can expect that what they hear in productions of, say, Tosca; Salome; or Falstaff will remain the same each time they come to a performance of those opera.  Not so with Carmen, where our reactions to characters and events can change, depending on whether the production opts for recitative (all-sung) or dialogue.  This time around you will hear the version with dialogue. When the company brings back the opera in five or six years, it may be the recitative version.  Stay tuned!

©Paul Dorgan
Tags