27 Apr 2018
An Evening at Home (at the Opera)
This opera stereotype is so tired, it's time we made fun of making fun of it.  It turns out Vikings didn't even wear horns like this; people just think they did because of Wagner.  And name me any opera not written by Wagner where the characters actually dress like that.  It's pretty tough to find one (though I'm sure some savvy reader will).  But the notion that opera is from a far-away land and a distant past is a popular one, heavily aided by this faux-Viking image.  There's been a lot of talk about the dreaded "e" word in opera (shhh… it's exoticism…), and there's no doubt that lots of our favorites are set in far-distant times and places.  Turandot, Madama Butterfly, Salome, and Samson et Delilah fall into this category of "exotic" opera (so does La fanciulla del West for that matter).
Johann Strauss II was Vienna's darling for decades before he thought to turn his compositional attention from the dance hall to the stage.  He became the voice of Vienna for his signature Viennese Waltzes (see my article "The Waltz King" vs. "King of Rock and Roll").  So, a Viennese setting for his first operetta would seem a no-brainer, right?  With a leading question like that, you already know the answer – Strauss' theatrical stage début was called Indigo und die vierzig Räuber, based on "Ali Baba and the 40 Thieves" from 1001 Arabian Nights. Why didn't the king of Viennese music just write something Viennese?  The trends of opera and operetta in Strauss' day offer some clear answers to this seemingly foolish question.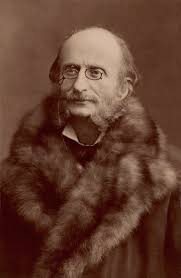 Jacques Offenbach was pretty much the founding father of operetta.
His raucous Parisian entertainments from the 1850s, 60s, and 70s combined singing, comedy, dialogue, and dance to yield something brand new.  At first, called opéra comique or opéra-bouffe, the title fairly quickly morphed into operetta.  Most of Offenbach's greatest hits are set in the mythic past (especially Mount Olympus of Greek deities; think Orpheus aux enfers or La belle Hélène).  Others are set in Peru or Portugal.  Offenbach only set one of his major works in contemporary Paris (the appropriately named La vie Parisienne).  All the rest were "exotically" set in far-away times and places.
It was Offenbach who encouraged Strauss to start writing operettas in the first place (at least that's what the legends say, though there is not much documentation to support the theory).  And Strauss surely saw Offenbach's operettas while the composer was conducting them in Vienna in the 1860s. And if the founder of the genre set his most successful pieces in the mythical far-away, why shouldn't Strauss do it too?
And it wasn't just Offenbach and his Parisian delights that encouraged away-from-home entertainments.  The 10 years before Strauss' Indigo débuted, these were the most important operas premiering: La forza del destino (1740s Spain and Italy), Les pêcheurs de perles (ancient Ceylon), L'Africaine (late 15th century Americas), Tristan und Isolde (mythical Europe), Don Carlos (16th century Spain), Roméo et Juliette (medieval Italy), Hamlet (medieval Denmark), Mefistofele (15 century Germany), Das Rheingold and Die Walküre (curse you, fake Viking helmets!), Aïda (ancient Egypt), and Thespis (mythic past).  It's no wonder Strauss chose a distant setting for his first stage work – that's just how it was done!  And after Indigo, he did it again with his second operetta Der Karneval in Rom.
Chances are, you've never heard of Indigo und die vierzig Räuber or Der Karneval in Rom.  But I'm guessing you've probably heard of a little Strauss piece called Die Fledermaus.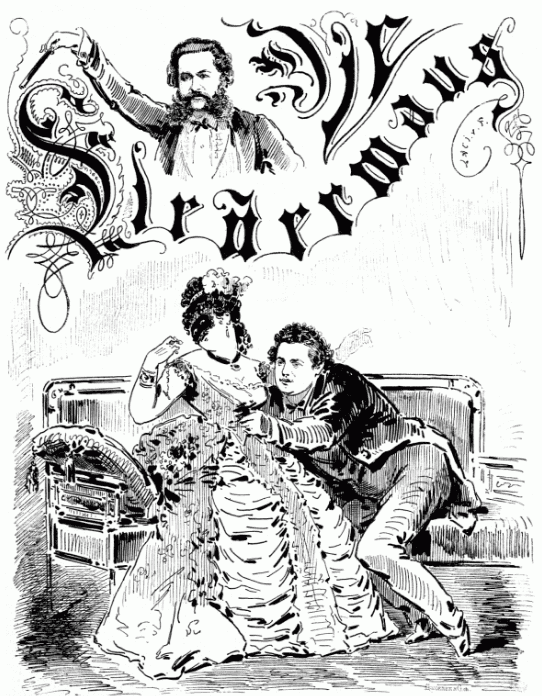 Fledermaus débuted in Vienna in 1874 and was set in… Vienna in 1874.  Wait, what?  An opera set at home? What is this madness?  Operetta scholar Camille Crittenden offers some insight here,
Fledermaus's curtain rose on a bourgeois living room, the second act took place in a ballroom, and the third act in a jail, offering the intimacy of private homes and the familiarity of a haphazardly run police station…  These innovations resulted less from a change in taste than from the altered economic situation.
You see, there was a gigantic stock market crash just one year before, in 1873, sending Vienna's economy into a dramatic tailspin.
The stock market crash left theatres scrambling to stay afloat in any way they could… Theaters were forced to make do with existing sets; and performers, who always provided their own costumes, were more likely to coalesce into a credible ensemble if they could wear contemporary fashions.[i]
A work set at home not only eased the financial burden of the producing theater, it also reminded audiences of joyful, more prosperous times in their own city.  The second act of Fledermaus with its lavish Vienna ballroom showed contemporary audiences the return to prosperity they hoped for themselves and their beloved city.  Fledermaus' instant success might have inspired Strauss to compose more Viennese-themed, contemporary operettas – not so.  The rest of Strauss' operettas are set in far-way lands or the distant past. Fledermaus is one of a kind.
Despite all this talk of exoticism in opera and operetta, the truth is that many great works (at least those we still love and perform today) hit much closer to home. Within ten years, the title of "Operetta King" had passed from Strauss to the team of Gilbert and Sullivan, who seem to have learned that to make a piece a lasting hit, you set it in your own day and place.  Their first six pieces: Trial by Jury, The Sorcerer, HMS Pinafore, The Pirates of Penzance, Patience, and Iolanthe are all set in contemporary England.  While it is true that The Mikado departs from contemporary London, it is unanimously recognized that the subject matter is a kimono-clad parody of contemporary English politics.
Opera lovers today seem strongly attracted to operas "at home."  The number #1 most- produced opera of 2016? La Traviata, which (though set in Paris) deals with Verdi's own time period.[ii] #3 is Carmen which takes place within a couple decades of when Bizet composed it.  #4 is La bohème, also set within a few decades of Puccini's own time.  The rule doesn't always work: Die Zauberflöte is #2, and it's the operatic equivalent of "a long time ago in a galaxy far, far away" – but there seems to be enough of a pattern to hold some water.[iii]
What makes works set at home so attractive?  It's not just about seeing our own homes: Fledermaus is popular in many places, not just in Vienna.  Maybe it has to do with the old adage "write what you know."  When we see and hear artists telling their own stories, it grabs us.  It's honest and credible.  And for a work like Die Fledermaus, which is about dishonest people in incredible situations, that's a real accomplishment!
[i] Camille Crittenden, Johann Strauss and Vienna (Cambridge: Cambridge University Press, 2000), 136-137.
[ii] (Sort of.  It's actually more complicated than that, but close enough for our purposes.)
[iii] "Opera Statistics" Operabase, accessed April 4, 2018.
Tags