27 Apr 2018
Everything you need to know about "Die Fledermaus"
by Kathleen Sykes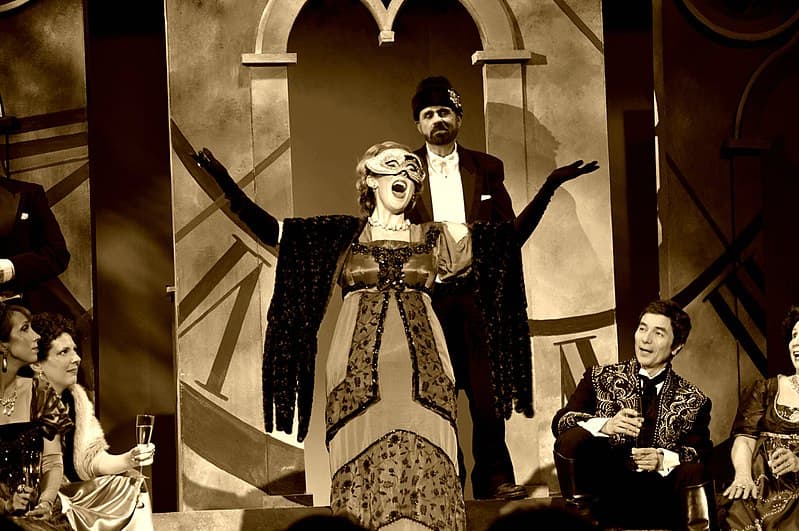 What better way to end an amazing season than with a party and a whole lot of champagne? That's why we are ending our 40th anniversary season with a bash that is hard to beat! If you love irreverent humor, exciting music, and fun parties, then Die Fledermaus is the opera for you.
If this is your first time seeing this opera—or even if it's your first time ever at an opera—here's what you'll want to know:
What is Die Fledermaus?
Literally, the name is German for "The Bat" (which will make more sense as you watch the show or read the synopsis, we promise). If you are at all put off by the stereotype that all operas are tragic, you'll be pleased to know that this opera is very funny! And—for the record—there are many funny operas.
The story of this opera is filled with mistaken identities, scandalous love interests, absolute chaos, and hysterical outcomes.
Will I be completely lost during this opera?
Sometimes the thought of opera can feel intimidating if you're not familiar with the art form. How are you going to enjoy the performance if you don't understand what they are talking about? First off, all operas have supertitles meaning you can read what's all the characters are singing about. Secondly, Die Fledermaus is in English! You'll be able to understand everything that is being said.
If you're the kind of person who loves watching television with closed captions, you'll feel right at home in this performance.
What else should I know?
If you want to do some more research before you go, we have some handy online learning materials. These are articles written by music and opera experts about each of our productions. They will take you through everything you could ever want to know about the opera from the synopsis to an in-depth analysis of the background of each opera. If you're hungry for more information on this or any other opera, you can see our online learning courses here.
Want to know more about going to this or other operas? Learn more from this video and get your tickets to Die Fledermaus here!
Featured image by jjsala.
Tags