21 Dec 2022
The Daughter of the Regiment Online Course by Dr. Glen W. Hicks

Part 1. Navigating the High Cs
Since the beginning of the nineteenth century, tenors have played a pivotal role in the operatic artform. By the 1830s, singing techniques and styles unique to the tenor voice were beginning to take shape that would define the voice type even to the present day. These characteristics were decidedly less lyrical than those popular in previous centuries and emphasized drama at every note. This new style inspired composers like Domenico Gaetano Maria Donizetti (1797 – 1848) to write in a way that explored the extremes of the tenor voice.
Although there is some debate about who was the first singer to champion this new style, many scholars attribute the change to the French tenor Gilbert-Louis Duprez (1806-1896). In 1831, Duprez sang the role of Arnold Melchtal for the Italian premiere of Giacomo Rossini's (1792-1868) opera Guillaume Tell, or Guglielmo Tell (Ital.). It was during these performances that Duprez sang for the first time a high C (C5) in full or chest voice. This feat known as a do di petto (C from-the-chest) astounded critics and audiences who were accustomed to hearing similar high notes sung with a mixture of falsetto and head voice, a common performance practice of the time.[1] Over the next ten years, Duprez's do di petto became recognized as the epitome of tenor showmanship. This reputation strengthened further after his return to Paris in 1837 where audiences at the Opéra marveled at his ability. Tenor and music scholar Michael Lee Smith Jr. has noted that "The ability and skill to perform [do di petto] well grew to be an indicator of consummate vocal ability among tenors."[2] Since Duprez's time, tenors have adopted his approach, and several composers began writing for this voice type – including Donizetti.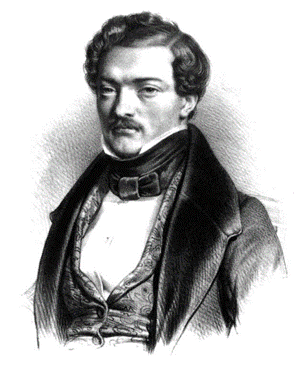 It is likely that Donizetti encountered Duprez either in Italy or Paris and it's possible he was inspired by the singer's technique. Regardless, in 1838 Donizetti began work on an opera that would highlight the tenor voice unlike any opera he had composed before. La fille du régiment, or The Daughter of the Regiment, his first to use a French libretto, is an Opéra comique in two acts that is set during that Napoleonic invasion of the Swiss Tyrol. The story follows the escapades of Marie, a vivandière, or canteen girl, raised by a regiment of French soldiers. Perhaps one of the most well-known arias from the opera is "Ah! mes amis, quel jour de fête!" which is sung by Tonio, a young Tyrolean man who falls in love with Marie. It is a tour de force in the tenor operatic repertoire.
Known as the "Mount Everest" of tenor arias, the work feature eight high Cs sung in under sixty seconds near the end of Act One. Following the cabaletta "Pour mon âme,"during which Tonio pleads with the members of the French regiment to allow him to marry Marie, the regiment gives their consent and Tonio expresses his uncontrollable delight that he can now be united with his love. In his song, he promises to march loyally under the French flag and vows to love and care for Marie.
Ah! mes amis, quel jour de fête!
Je vais marcher sous vos drapeaux.
L'amour qui m'a tourné la tête
Désormais, désormais, me rend un héros.
Ah! quel bonheur oui mes amis
Je vais marcher sous vos drapeaux.
Oui, celle pour qui je respire,
A mes voeux a daigné sourire
Et ce doux espoir de bonheur
Trouble ma raison et mon coeur!
Ah! mes amis, quel jour de fête!
Je vais marcher sous vos drapeaux.
Ah, my friends, what a day for celebrating!
I shall march under your flags.
Love, which has turned my head,
from now on is making me into a hero.
Ah, what happiness, yes my friends
I shall march under your flags.
Yes, she for whom I live and breathe
has deigned to smile upon my vows.
And this sweet hope of happiness
has shaken my mind and my heart.
Ah, my friends, what a day for celebrating!
I shall march under your flags.
English translation by Ann Feeney (June 2, 1999).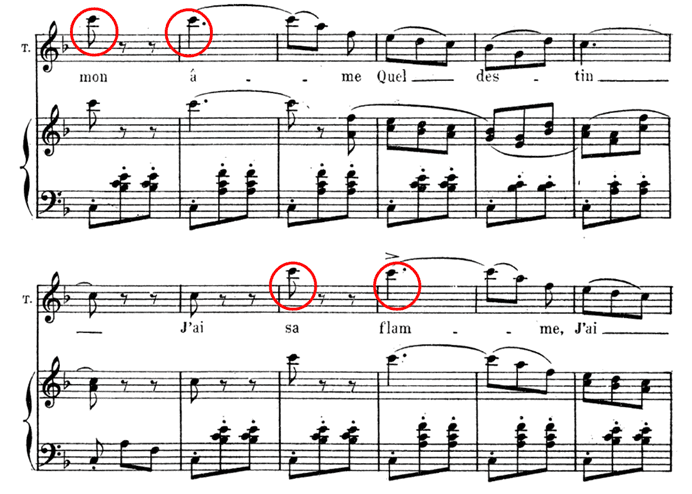 While eight high Cs is exciting enough, since Donizetti's time, tenors have frequently added a ninth C at the end of the aria to the delight of audiences. The demanding nature of the work has increased its appeal among audiences, rendering it a literal showstopper. In 1973 Luciano Pavarotti sang the role of Tonio in the Metropolitan Opera's production of La fille du régiment. His nine high Cs were met with thunderous applause.
In a more recent production (2008), Juan Diego Flórez took his turn brining Donizetti's Cs to the Metropolitan stage. Writing for the New York Times, Bernard Holland noted:
As a full house at the Met awaited the sporting event of the evening, Juan Diego Flórez as Tonio, the aspiring lover from the mountains, delivered his famous string of high C's in Act I and then, repeating the whole thing, nailed them again. The crowd, as they say, went wild.[3]
In 2019, Javier Camarena performed as Tonio at the Met. Not only did Camarena sing the nine Cs flawlessly, he did it a second time as an encore for a total of eighteen. A review in The New York Times described the feat.
Any tenor singing Tonio, the hero of Donizetti's "La Fille du Régiment," has to knock off a string of nine high C's in the joyous aria "Ah! mes amis."

On Thursday at the Metropolitan Opera, when "Fille" returned in Laurent Pelly's production, Mr. Camarena's breezy performance of the aria, complete with clarion, effortless high C's, was so thrilling that the audience broke into an ecstatic ovation. So after exchanging glances with the conductor, Enrique Mazzola, Mr. Camarena sang it again: 18 high C's for the price of nine.

[…]

Assuming he keeps singing on the same level, Mr. Camarena may well be prevailed upon to repeat his big aria in the remaining six performances of this run: 18 high C's down, 108 to go.[4]
Throughout its history, "Ah! mes amis, quel jour de fête!" has provided a means for tenors to delight and astound audiences through the execution of its 8 9 high Cs. Pavarotti, Flórez, Camarena and other before and after, have all been beneficiaries of not only the pioneering technique of singers like Duprez, but also the operas of composers like Donizetti who wrote music that expanded the horizons of the tenor repertoire and prompted audiences to question the limits of the human voice.
---
[1] Michael Lee Smith Jr., "Adolphe Nourrit, Gilbert Duprez, and the High C: The Influences of Operatic Plots, Culture, Language, Theater Design, and Growth of Orchestral Forces on the Development of the Operatic Tenor Vocal Production" (PhD dissertation, University of Nevada, 2011).
[2] Smith Jr.
[3] Bernard Holland, "Counting a Tenor's High C's in 'La fille du régiment' at the Metropolitan," The New York Times, 23 April 2008. https://www.nytimes.com/2008/04/23/arts/music/23regi.html (accessed 3 November 2022).
[4] Anthony Tommasini, "Review: A Tenor Reaching 18 High C's at the Metropolitan Opera," The New York Times, 8 February 2019, https://www.nytimes.com/2019/02/08/arts/music/review-metropolitan-opera-donizetti-fille-camarena.html (accessed 3 November 2022).
Tags