Ross Hagen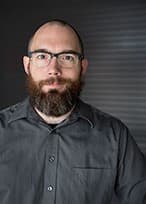 Ross Hagen is a Lecturer in Musicology at Utah Valley University. He joined the faculty in 2010 and teaches/has taught MUSC1010 – Introduction to Music, MUSC1030 – American Popular Music, MUSC3450/3451 – Music History and Literature I & II, Honors Colloquium, and online sections of MUSC 1010 and MUSC 1030.
Hagen received his Ph.D. in Musicology from the University of Colorado – Boulder, in 2010. He also received his Master of Music from the University of Colorado in 2005 and his B.A. in Music from Davidson College in 2001. Before joining the Music faculty at UVU, Hagen taught at the University of Colorado and at Regis University in Denver.
Hagen's research interests include music and ritualism, music fan cultures, underground music scenes, and 20th/21st century avant-garde music. He is actively publishing articles in peer-reviewed journals and edited collections on a diverse range of topics and is currently working on his first monograph. Hagen has also written entries for the New Grove Dictionary of American Music and the Encyclopedia of American Music and Culture. Hagen has presented papers at national meetings of the Popular Culture Association, the International Association for the Study of Popular Music, and the Society for Ethnomusicology. Hagen is also on the editorial advisory board for the journal Metal Music Studies.
In addition to his academic work, Hagen is active as a performer and composer specializing in electro-acoustic music, free improvisation, and extreme metal, with more than a dozen album releases on various American and European record labels. Hagen also composed music and sound for UVU productions of Antigone(2010) and Eurydice (2012). He is a pretty good bassist, a decent guitarist, and a recovering oboist.