­MUSIC EDUCATION OFFERINGS FOR TEACHERS & SCHOOLS


Utah Opera's school programs give students opportunities to develop skills in music as identified in the state core curriculum while they are being introduced to the basic elements of the art form of opera; our programs also show audiences that being involved in the art form can be moving, thrilling, and fun. We hope to inspire promising young artists and give them experience with the variety of artistic activities and careers involved in the creation, development, and production of opera.
Please contact our education department at [email protected] if you have questions about any of our music education programs.
---
OPERA IN THE SCHOOLS
Utah Opera offers free music education programs to public schools and visits every school in the state on a three to five year rotation. Our Resident Artists travel throughout the state to perform these in-school presentations and teach students about the art of opera.
To schedule any of these programs please email [email protected].
WHO WANTS TO BE AN OPERA STAR?FREEZE FRAME: THE ELIXIR OF LOVEOPERA 101OPERA UP CLOSE
Download Introduction to Opera PowerPoint
Schedule Zoom Core Music Lesson
---
Who Wants to be an Opera Star?
Sign Up HereTeacher MaterialsPrintable Teacher Materials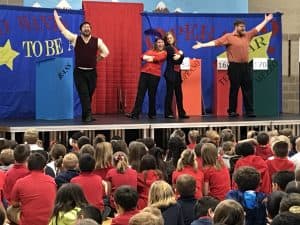 For elementary school students, "Who Wants to be an OPERA STAR?" is an introduction to the art form of opera through the framework of a television game show. The assembly runs as a series of questions and competitions, with four singers in the roles of MC and contestants. Studio audience members (the students) will learn about voice types, arias, duets, props and costumes. They will also participate in identifying emotions and clapping rhythms in musical selections taken from some of the world's favorite operas.
"I think the biggest advantage of this assembly is to give the students an opportunity to hear something very few, if any, of them have the chance to experience. It opens up their minds to new, creative possibilities. It makes opera accessible. I love it!" – Midvale Elementary School Teacher, Canyons school district.
"My 1st graders were very engaged in listening and watching the performers sing , dance, and act. After the assembly, all of my students became opera singers on the playground at recess. 🙂 They loved it!" – West Valley Elementary School Teacher, Granite School District
---
Freeze Frame: The Elixir of Love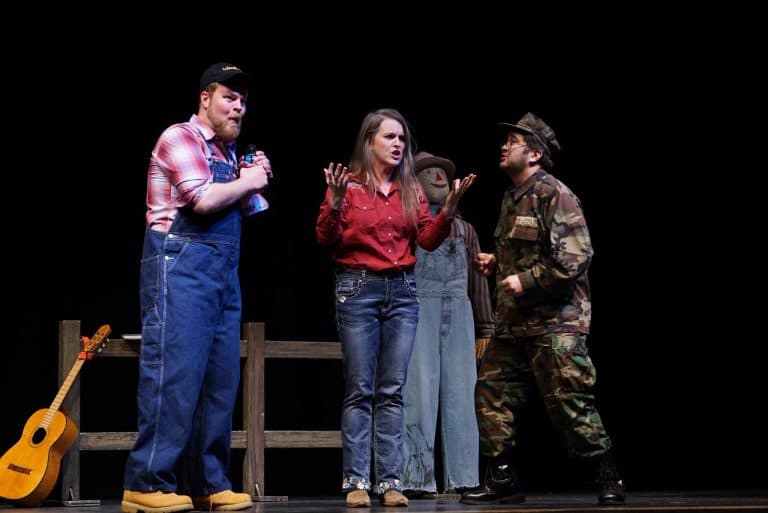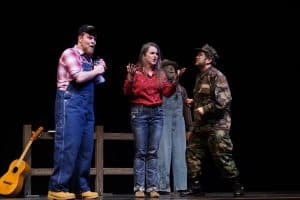 For secondary school audiences, Utah Opera Resident Artists presents "The Elixir of Love" a short, English version of the comic opera by Gaetano Donizetti. In "The Elixir of Love" sassy cowgirl Adina can't seem to get shy ranch hand Nemorino to declare his love for her. When a rival, the soldier Belcore, appears on the scene, Nemorino buys a "magic love potion" from Dr. Dulcamara to try to win Adina's heart. The Resident Artists narrate the action, explaining the elements of drama and opera occurring in the scene. The program runs 45 minutes and can include a question-and-answer session at the end, if time allows. It must be performed in an auditorium or small theatre.
---
Opera 101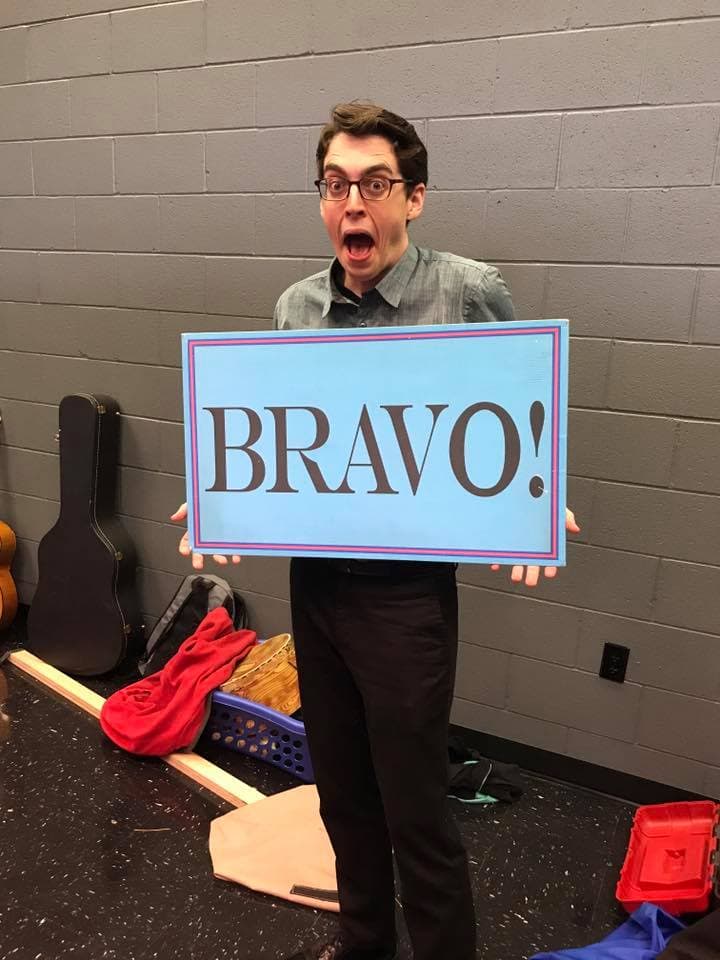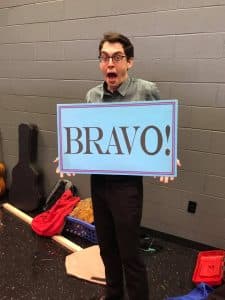 For secondary school students, we have created a scenes-and-dialogue program where our opera singers introduce concepts from opera and tell students about the scenes they will see. Resident Artists perform arias, duets and large ensembles from popular operas such as The Barber of Seville, The Marriage of Figaro, Die Fledermaus, and The Elixir of Love. This program is 45 minutes in length. It can be performed in an auditorium, gymnasium or other common space.
"I loved that ties to the state standards were included in the teacher materials! We use the state performance assessment rubric for choirs to grade ourselves all the time, so the students are very familiar with that terminology. It really helped them to see such fantastic professional performances and relate it to what they're learning as singers themselves." – DaVinci Academy Teacher, Charter School.
---
Opera Up Close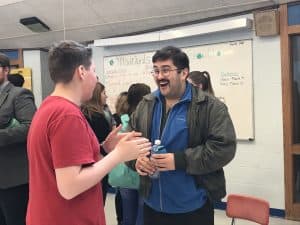 Utah Opera offers "Opera Up Close" to high school choirs throughout the state of Utah. The program is designed to be presented during a single class period for a large choral audience, preferably in the choral class room. . During Opera Up Close, Utah Opera's Resident Artists perform arias and ensemble pieces, give a brief introduction to opera, talk about their experiences as vocalists and performing artists, and answer questions from the student audience. This program is designed to be performed in a music classroom and can be tailored to fit within the time of a class period.
"This is an invaluable tool! Keep doing it! It is always a wonderful thing to do with our students". – Gunnison Valley High School Teacher, South Sanpete School District
"I think this program is a wonderful vehicle for listening. It is always so much better to enjoy things live as opposed to recorded, and the kids stay more engaged. This will also help us with our performing because it will give me some incredible examples to refer back to when we talk about technique, performance engagement, and so on" . – Canyon View High School Teacher, Iron School District
---
DIGITAL RESOURCES FOR CLASSROOM SHARING
---
BUILDING & BACKSTAGE TOURS
Groups may request a 45-60 minute tour of the Utah Opera Production Studios (including our Costume Shop and our Set & Scenic Design Studio). Groups may also request a 30-45 minute tour of Janet Quinney Lawson Capitol Theatre. Experience the behind-the-scenes world of Utah Opera—from exploring backstage to learning about the careers. Please note that our availability to tour Janet Quinney Lawson Capitol Theatre is limited by the production calendar.
Utah Opera Production Studios
See where the Utah Opera magic is created. Utah Opera purchased an old electronics warehouse and outfitted to serve our needs. Highlights of the tour include Costume Shop, Prop Studio, Set Storage and Shop, and Assembly Bay.
Janet Quinney Lawson Capitol Theatre
Located in the heart of downtown Salt Lake City, this historic landmark is the home of Ballet West, Utah Opera, and Ririe-Woodbury Dance Company. The theatre also hosts various concerts and community arts education programs.
The building began as the Orpheum Theatre, and when completed in 1913 was recognized as an architectural gem featuring some of the "highest standard acts and greatest stars of the stage." The theatre housed approximately 1900 seats and was built at a cost of $250,000. Capitalization of the project came from the Walker Estate in Salt Lake City.
G. Albert Lansburgh, a 36-year-old San Francisco architect, with a degree from the Ecole des Beaux Arts in Paris, designed the building with its tapestry brick, polychrome terra cotta and steel reinforcement. The only other major building in Salt Lake using the new terra cotta material on its exterior was the Hotel Utah. Harmony and high art keynoted the decor described by one newspaperman of the time as, "rich and restful without vulgar or gaudy display." The Orpheum was significant for introducing innovative architectural features in theater construction and the most modern mechanical contrivances of its time to the Intermountain West. Vaudevillians entertained crowds twice daily; tickets sold for 10 cents, 25 cents, 50 cents and 75 cents (depending on the performance and the type of seat).
In 1923, the Ackerman Harris vaudeville chain purchased the theatre. Vaudeville continued to reign as king-of-the-house and movies provided a sideline. The theatre was again sold in 1927 to Louis Marcus, a much-respected mayor of Salt Lake City and Utah movie pioneer, who paid $300,000 for the theatre. Marcus enlarged the seating capacity to 2,260 and installed the "Wurlitzer" with Alexander Schreiner (the Salt Lake LDS Tabernacle organist) as its spotlighted musician. A sunburst set in the ceiling was fashioned "from a pattern in the carpet used to cover the floor and staircase used in the Lyon cathedral in southern France." When the theatre raised its curtain on September 29, 1927, it had a new name. The Orpheum was now Capitol Theatre. The "all-talking" picture was introduced to Janet Quinney Lawson Capitol Theatre in 1929 when On Trial, a Warner Brothers feature was projected on the screen with a Victaphone bringing the star's voice to the audience. Janet Quinney Lawson Capitol Theatre underwent another facelift in 1947. Movies continued to be the main attraction at the theatre with live performances staged as they became available. For instance, Stanley Holloway played in a run of My Fair Lady, Judith Evellyn played in A Streetcar Named Desire, and Frank Fay played in Harvey. It was December of 1975 when Salt Lake County residents passed an 8.6 million dollar bond to renovate the old Orpheum into a performing arts center as part of the Bicentennial Celebration. On October 18, 1978, the curtain at Janet Quinney Lawson Capitol Theatre rose again ushering in a new era of performing arts in Salt Lake County.
---
TEACHERS IN THE HOUSE
Teachers who attend Utah Opera performances can earn 4 re-licensure credits.
Here's How:
Buy discounted teacher tickets! Tickets for opera performances start at just $30. Teachers receive a 10% discount.
Arrive at Janet Quinney Lawson Capitol Theatre 1 hour prior to the opera performance and sign in at the Patron Services counter.
Attend the pre-concert lecture in the Janet Quinney Lawson Capitol Room followed by the performance!
Earn the re-licensure credits by registering for these events ahead of time through the USBE MIDAS system.
---
MUSIC! WORDS! OPERA!
During this week-long course, teachers will work side-by-side with students in a summer music camp. Together, students and teachers will learn about opera traditions and history, create a libretto and compose music together for an original opera they will perform in the Utah Opera Production Studios at the end of the week. Utah Opera will help teachers make individual plans for a classroom opera project with a composer (hired by Utah Opera).